'Dragon Ball Super': Synopsis of Chapter 109
We reveal the latest information about the one hour special that will be released on October 7.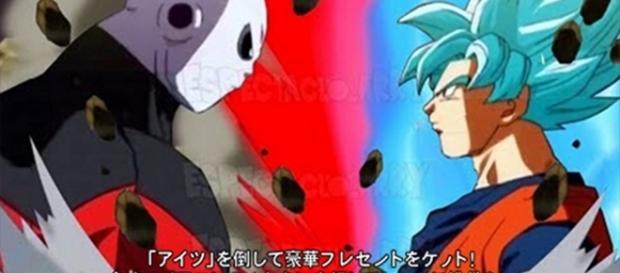 The anticipation for chapter 109 of "Dragon Ball Super" far exceeds the anxiety that fans felt previously in other episodes. In this special 1 hour chapter, Goku will revert to using his most powerful technique, the Genkidama, while Jiren will demonstrate his astounding power.
Recently a new Synopsis of this special episode was revealed. This synopsis was translated from a popular Japanese magazine known for their episode summaries and spoilers for "Dragon Ball Super."
Episode 109
New articles from Chapter 109

-

Nuevas noticias del capítulo 109! pic.twitter.com/JfewcyRT6l

— Dragon Ball Super (@DBSuperOK) 29 de septiembre de 2017
The strongest enemy zeroes in on Goku.
Jiren of the universe 11 has remained silent until now but finally, decides to enter the fray. This formidable warrior overwhelms just by unleashing his ki, which is immense and requests a one-on-one fight with Goku. Meanwhile, the gods of the universe 11 shout at him to get going.
Goku's Additional Information
The Genkidama is useless against Jiren. Vegeta is amazed to see that even Goku's Blue Super Saiyan can not scratch Jiren. After all this, Goku will use his ace in the hole, the Genkidama.
Will it work against this amazing warrior, who still seems to have the power to spare?
As you can see, this new synopsis is very similar to the one revealed a few days ago, but with some differences. In the first place, it reveals that Jiren will be the one who confronts Goku and not the Saiyan who provokes the star warrior of universe 11. On the other hand, Vegeta is introduced in this summary, which mentions that the prince will be surprised and will remain motionless before the astonishing power of the warrior of the eleventh universe.
As speculated in recent days, the Genkidama will be useless against Jiren, who will withstand the attack. It is believed that this character will not only support the Genkidama but will manage to control it, deflecting it to Goku, causing an enormous amount of damage.
It is worth noting that this Genkidama will be summoned with the power of Super Saiyan blue combined with the Kaioken X20, in addition to energy that Goku's friends will share with him for the attack. This technique will collect a colossal amount of energy, so if Goku is hit directly, it will generate damage like never before.
After this, it is known that Goku will emanate an energy unknown until the moment, which will allow him to ascend to his new transformation. We do not know the real reason why Goku will achieve this evolution, but we believe that it may be directly related to his emotions after being defeated by Jiren.
This was the most recent news from the world of "Dragon Ball."Watch the video below to see the progress of the upcoming chapter of "Dragon Ball Super," which comes to us through some leaked information about this saga.