'Dragon Ball Super' proves Goku isn't at fault for suggesting the tournament
The manga version has finally gave more insights about Goku's controversy in the Tournament of Power.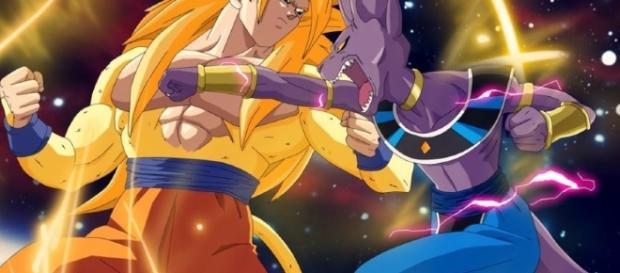 Some have blamed Goku for suggesting the "Dragon Ball Super" Tournament of Power, which pits all 80 warriors from eight participating universes. These warriors gather in the battle arena to fight against each other in an attempt to save their home from annihilation by the Omni-King. However, what the others don't know is that the Zen-Oh had planned to wipe out the weaker universes to balance the galaxy long before the Saiyan warrior requested the tournament. Recently, the manga version proved that Goku isn't the one to blame in this deadly battle royal but his God of Destruction instead.
Lord Beerus is at fault
The latest chapter of "Dragon Ball Super" manga version has just been released that gave fans more insights about the Tournament of Power. The manga follows the Grand Priest, who ordered the Gods of Destruction to have a match before the battle royal begins. It's a battle of the gods, and it's going to be an intense one and Goku showed his support to Beerus, but the god shut him down. He told Goku to stop being an idiot, especially that the Saiyan warrior is the reason for this deadly tournament.
The Gods of Destruction don't blame Goku
However, the Gods of Destruction don't think that Goku is to be blamed for suggesting the "Dragon Ball Super" Tournament of Power. Instead, they are pointing their fingers at Lord Beerus and jogged his memory at the time when all universes were nearly wiped out by the Omni-King. Whis, the Angel of Universe 7 said that the deity fancied for a game with his subordinates, but Beerus chose not to participate and took a five-decade nap instead. Apparently, as what the gods told him, he is the one at fault for this tribulation, and it shouldn't be Goku.
The gods loathe Beerus
Whis went on to say that the "Dragon Ball Super" tournament between the Gods of Destruction was canceled because Beerus never showed up. "His Majesty, who was truly enjoying the event, became furious," the Angel said. "In order to calm his anger, the rest of the gods from the other universes had to make extremely intensive efforts to please him. Due to that, they all have animosity towards Lord Beerus."
Now that Whis has made it clear that Beerus is the one to be blamed for the ordeal, we're pretty sure that "Dragon Ball Super" fans can now lay this Goku controversy to rest.
After all, the Zen-Oh has originally planned to wipe out the weaklings. However, thanks to Goku for suggesting the tournament to give others a chance to prove the Omni-King wrong.