'Dragon Ball Super': new order of elimination for universe 7 revealed
A new order of elimination was revealed, and many fans were unaware of it.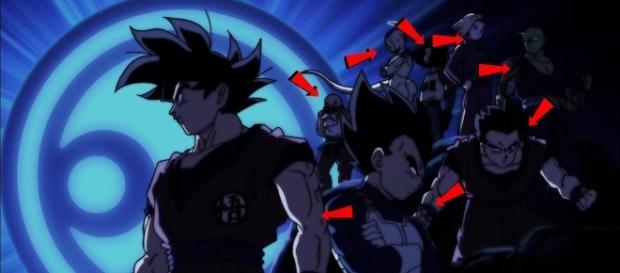 The tournament of power is at its best and decisive bouts are about to begin. On September 30 there will be no episode, but on October 7, "Dragon Ball Super" will return with a 1-hour special. In that special, we will see the fight between Goku and Jiren, and the new transformation of Saiyan.
In Chapter 107, a very interesting image was revealed, which went unnoticed by many. This image could reveal the order of elimination of the warriors of universe 7. This is a more coherent order, and not so far-fetched as the one that the Ending presented us previously.
Ending Eliminations
The closing of the series presented us an order of elimination with little credibility, which left the fans very worried. This order predicted that Vegeta, the prince of the Saiyans, would be the third eliminated from universe 7, however, that did not happen and Master Roshi was eliminated before Vegeta. Next, we will show you the order that predicted the elimination of the warriors of the universe 7 in the end.
Krillin
Tenshinhan
Vegeta
Android 18
Android 17
Master Roshi
Piccolo
Frieza
Gohan
Goku
That was the order of elimination of the warriors of the seventh universe in the end.
Luckily, this theory was ruled out with the elimination of Master Roshi, who left the platform after giving everything in the tournament for the universe 7 team.
New order
Now, thanks to the images from Chapter 107, we were able to see a new order, which is not official, but much more coherent and interesting. This order is less preposterous than the previous one, being more attached to the revelations of the Opening and Ending of "Dragon Ball Super."
Orden de eliminación?

-

removal order? pic.twitter.com/ZRFdZE2JGL

— Dragon Ball Super (@DBSuperOK) 27 de septiembre de 2017
Krillin
Tenshinhan
Master Roshi
Frieza
Android 17
Android 18
Piccolo
Gohan
Vegeta
Goku
That is the new elimination order.
Everything seems to be fine, but there is a detail that we can not ignore. After the elimination of Master Roshi, the next to be off the platform would be Frieza. This is somewhat illogical since this character is one of the most powerful in universe 7 along with Goku and Vegeta, so he would have many chances to reach the end of the tournament.
Even though he has great power, Frieza is treacherous, so he could be disqualified from the tournament, or worse, be erased by Zeno, as seen with Frost of universe 6.
Do not forget that this is a theory based on official images. Any similarity is coincidental.
This was the most recent news from the world of "Dragon Ball." Watch the video below to see the progress of the upcoming chapter of "Dragon Ball Super," which comes to us through some leaked information about this saga.