'Dragon Ball Super' episodes 111, 112, 113 spoilers, titles: Jiren vs. Hit
Jiren's battle against Goku and Hit will resume in the Tournament of Power.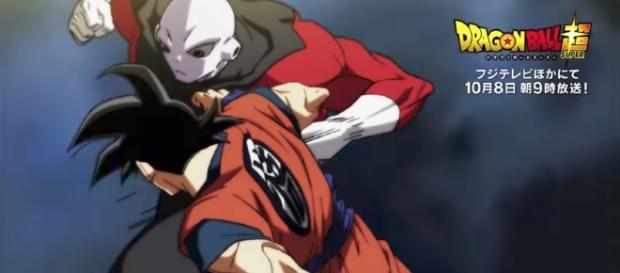 It looks like the one-hour special will not be the end of the Tournament of Power. The latest "Dragon Ball Super" episodes 111, 112 and 113 titles are out and it looks like October will be packed with some mind-boggling fights featuring Vegeta, Hit and Jiren.
Warning: This article contains spoilers from the forthcoming episodes.
Episode 111 provisional title
Herms98, a popular and trusted "Dragon Ball Super" spoilers source, has shared the latest titles for the upcoming installments. Episode 111 is called "Hit vs. Jiren!!" and the installment is scheduled to hit the airwaves on October 15. The title suggests that after Jiren and Goku's battle in the one-hour special episode, Jiren will battle against Hit.
Episode 112 and 113 provisional titles
This installment is called "Vegeta's Resolve!!" and it is possible that the episode will revolve around Vegeta and his fight in the tournament. Episode 112 will telecast on Fuji TV on October 22. "Fighting Maniac Saiyan Battle" is the title of the episode. It is scheduled to telecast on October 29. These titles are provisional at the time of writing this article. The network may change the titles before the official release of the episodes.
Episode 109 and 110 one-hour special spoilers
Meanwhile, the latest scoop from the episodes 109 and 110 have been released by Weekly Shonen Jump magazine and Goku is shown with sparkling silver eyes pointing at a new form.
The spoilers suggest that fans should be ready to witness a shock the like of which has never been seen in the history of Dragon Ball. The Tournament of Power is getting tougher and the warriors can feel the heat. In the special episode, Goku and his team are up against fighters from Universe 11.
The Gods of Universe 11 order Jiren to take down Son Goku. Meanwhile, Goku is delighted that he will get to battle Jiren, who is considered the strongest fighter of Universe 11. But when Jiren fires his ki, it shocks all the warriors in the Tournament of Power.
However, Goku is ready and he quickly transforms into Super Saiyan Blue and pushes his Kaioken to its limit. It will be interesting to see what Goku has in store for Jiren.
On October 8, two episodes of "Dragon Ball Super" are scheduled to air a back-to-back installment titled "One-hour Special – This is the Ultimate Battle of All Universes! Son Goku vs. Jiren!!" Fans can catch this mega episode on Crunchyroll and FUNimation.