'Dragon Ball Super' Episodes 107-109 air dates, synopses and titles
The last leg of the Tournament of Power shows Universe 7 warriors gearing up to beat the remaining fighters.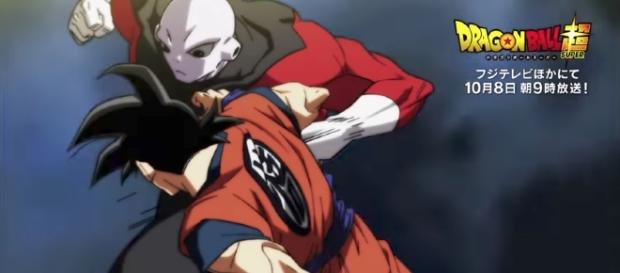 The synopses with updated air dates for September and October 2017's "Dragon Ball Super" episodes have been released. The show will not air on Sept. 10 and Oct. 1 due to changes in program scheduling. Warning: This article contains spoilers from the forthcoming episodes of the anime series.
Schedule for September 2017
Todd Blankenship, a trusted source for "Dragon Ball Super" and other popular anime spoilers, took to Twitter with the updated summaries along with the titles and air dates. There will be no new episode of "Dragon Ball Super" on Sunday, Sept.
10 as Fuji TV will be airing the History of Japan special. Meanwhile, Episode 107 will air on Sept. 17 and in the episode, Fuwa the Kaioshin tells Frost to beat a universe 7 fighter.
Frost agrees, but he has a few conditions. He tells Fuwa that if Universe 6 wins the contest then his dirty past will be forgotten, and he will receive money for starting his business venture. Later, Frost attacks the Turtle Hermit. Yoshitaka Tokio is the scenario in-charge while Tatsuya Nagamine and Ryota Nakamura is the director of the episode.
Osamu Ishikawa is the animation supervisor.
The same old spoilers for DBS eps.107-109, now with an actual source (hooray). Ep.109 is the double-length special. pic.twitter.com/zRvwZ9a3I2

— Todd Blankenship (@Herms98) September 6, 2017
Episode 108, titled "Freeza and Frost! Intersecting Evil?!" shows Freeza in the lookout for his next competitor. Elsewhere, Jimeze and Gohan are having a tough battle. Universe 7 team is shocked to see Freeza watch and smirk as Gohan is kicked around by Jimeze. They feel that Freeza has betrayed them.
Installment 108 is scheduled to air on Sept. 24. Yoshifumi Fukushima has been roped in to be the scenario in-charge. Kiyosato Yamamoto has handled the storyboard. Hideki Hiroshima is the director of the installment, and Yoshitaka Yashima is the animation supervisor.
Due to popular demand, here's the staff list. Well, two people asked about it, anyway. pic.twitter.com/UiDtEDfkj4

— Todd Blankenship (@Herms98) September 6, 2017
Schedule for October 2017
The anime series will not be airing Episode 109 on Oct.
1. The installment will hit the airwaves on Oct. 8. Ribrianne and Goku continue their fight as Gohan fights his battle in the episode. Meanwhile, Ribrianne desires to come out victorious in the Tournament of Power as she wants to become the goddess who is loved by humanity. With this vow in her heart, she goes all out to take down Goku.
Jiren of Universe 11 has been quiet for some time in the tournament, and he finally powers up against Goku. Jiren uses his unthinkable colossal ki and surprises Goku and other fighters.
The scenario by Hiroyoshi Yamaguchi, direction, and storyboard by Kazuya Karasawa and Tsutomu Ono and Shuichiro Manabe are the animation supervisor for the episode.
Click to read more
You will watch a video to read the news
or