'Dragon Ball Super': Current Power Tournament Statistics
We bring you the latest statistics related to the incredible tournament of the 8 universes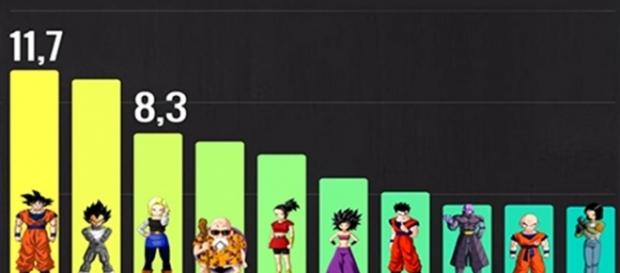 Entertaining battles have been seen throughout the Tournament of Power, and generally seen in action is the Universe 7 team, led by Son Gohan. For this reason, we bring you the analysis of these great "Dragon Ball Super" confrontations.
Time Elapsed
To begin with this in depth analysis, we must first know how much time remains before the end of the tournament of Power. The Daishinkan implemented a maximum time for this event of 48 minutes. Everything up to this point has been in a 16-minute time span, 33% of the total time, leaving 32 minutes.
Who has eliminated the most fighters?
As we mentioned before, universe 7 has been one of the most active in the Tournament of Power. That being said, it is no surprise that a universe 7 warrior has eliminated the most opponents.
To the surprise of many, Vegeta is leading this statistic. He has eliminated 6.5 participants, followed by Son Goku and Master Roshi with 4.5 competitors each. For that reason, both Saiyan warriors and Master Roshi must be experiencing great wear and tear at this point in the tournament.
The best universe
Since the characters who have eliminated most opponents are from our team, knowing the winner is easy; however, we have the exact amount of activity in each universe. Universe 7 has eliminated 29 warriors. Second is universe 6 with 11 eliminated participants of the tournament. The only other teams that have eliminated participants are universe 2, with only three fighters.
The warrior with the most battles
This list is lead by Goku with 20 battles throughout the entire tournament, followed by Prince Vegeta with 15 fights; in third place, is an extensive draw between Narirama, Gohan, Master Roshi and Piccolo with 11 classes each.
These numbers do not define who is the most powerful, yet they do show who are the most effective in the confrontations they have had so far. This statistic is even more important than the gross power of each given participant. So far, the tournament has been one based on strategies and techniques to get an opponent off the fighting platform. An obvious example of this is the Pride Troopers, who are quite powerful, however, have not eliminated anyone and only 3 of the 10 remain from the beginning.
Remember that on September 10, there will be no episode because of a festival in Japan. The broadcast schedule for "Dragon Ball Super" will be replaced by a specialist on Japanese television to commemorate this particular day. Chapter 107 will soon be released, and you can watch it through pages like Crunchyroll.