'Dragon Ball Super' confirms Jiren's power is incomparable
The hit anime series will finally pit Goku and Jiren in an upcoming episode to highlight the Tournament of Power.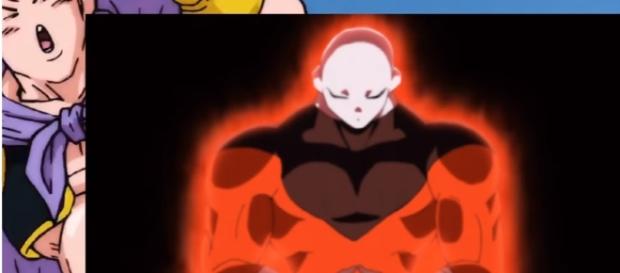 "Dragon Ball Super" fans have been hyped with the highly-anticipated and long-awaited battle between Goku of Universe 7 and Jiren The Grey of Universe 11 in the Tournament of Power. The muscular humanoid member of the Pride Troopers has been extremely quiet while the battle royal is rolling. He has rejected Goku's challenge to fight before and sent his comrades instead but the long wait will soon meet its end. In an upcoming episode, the hit Anime Series will finally pit the two warriors against each other and it promises an intense battle in an attempt to defend their respective homes. Recently, a new set of synopsis was released that confirms how incredible Jiren's power is.
The strongest fighter
Toppo, the leader of the Pride Troopers and the God of Destruction of Universe 11, previously admitted that even if he combines his power with Goku's, it still won't surpass Jiren's power. This is one reason why Goku is interested in fighting against the muscular humanoid warrior to see how it goes. The synopsis for an upcoming episode of "Dragon Ball Super" suggests that the Saiyan fighter will resort to another option when he discovers that using the Kaio-Ken x20 does not stand a chance on Jiren.
It is said that he will combine his Super Saiyan blue form with this attack but Jiren seems unfazed.
Apparently, it only means that Jiren The Grey is the most powerful fighter that we have to see yet in "Dragon Ball Super." Theories have it that while Goku is in his SSB with the Kaio-Ken x20, the Pride Trooper is still not using his real power while fighting against the Saiyan fighter. Perhaps, he will only show his true power and strength once Goku unleashes his brand new Super Saiyan transformation. Jiren's incredible power is definitely the foundation of the Saiyan warrior's impending form in an attempt to take him down.
Goku's brand new transformation
"Dragon Ball Super" producers have teased Goku's brand new transformation showing the Saiyan warrior in his infamous spiked-hair with his new silver-colored eyes and a white-blue aura surrounding him. Since he can't take down Jiren using his SSB and Kaio-Ken x20, the Saiyan warrior will transform into his yet to be named new form. Goku will also absorb the energy attack called Genki Dama or known as the Spirit Bomb. This attack borrows energy from all the living creatures such as trees, grass, people and so on.
It is the strongest attack in the entire "Dragon Ball" franchise and hopefully, it will defeat Jiren The Grey.
"Dragon Ball Super" Episode 109 will showcase Goku and Jiren's battle during the anime's one-hour TV special on October 8. Stay tuned!
Click to read more
You will watch a video to read the news
or