'Boruto: Naruto Next Generations' Episode 24 Jump spoilers released
Rate this title
The Five Kage are set to arrive in the Hidden Leaf Village in the new episode.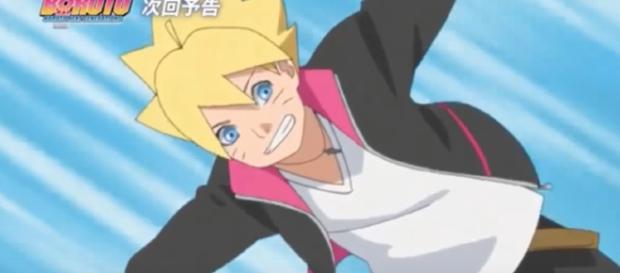 After the conclusion of Sakura-Sarada arc, Boruto, Sarada, others get ready for The Five Kage Summit in "Boruto: Naruto Next Generations" Season 1, Episode 24. Meanwhile, Boruto is ready with his next mischief and this time he is armed with a paint brush.
Warning: This article contains spoilers from the upcoming anime series.
Episode 24 Jump spoilers
According to the Weekly Shonen Jump spoilers for Episode 24, it is revealed that the Five Kage from various villages has assembled for a summit. As the Five Kage are coming, the Hidden Leaf Village is bustling. People of the community are excited about the arrival, but Boruto has something planned for the occasion.
However, the security in the village is stricter, and Boruto will have to find a way to get past the security guards.
It is also revealed in the spoilers that Boruto manages to get on the Hokage monument, and he has a paint brush. Is he going to paint the monument ahead of the summit? The Five Kage come to the village with Naruto and Boruto's act can embarrass him in front of them.
Boruto episode 24 preview.
Episode airing on Sept 13.

(We will probably see Naruto chapter 700 animated in this) pic.twitter.com/E41D4HCaWx

— Ken Xyro (@KenXyro) September 10, 2017
Sarada's real strength
Sarada is ridiculed by Boruto as he makes fun of the Hokage. Later, they indulge in a battle. Sarada has vowed that she will train to become a Hokage. She is working hard to get more out of her practice routines.
After Boruto and Sarada are done battling, they decide to shake hands.
Episode 25
The episode is titled "The Adventurous School Trip!!" and it showcases Boruto and others in the Hidden Mist Village. They are in the Land of Water as part of their school trip. The village is full of life, and Boruto is stunned to learn from Kagura, their guide, that once this village was called The Village of the Bloody Mist. The students of the village tried to murder one another. Things have changed in the village, but few mist ninja fighters are unhappy with the development. Episode 25 of "Boruto: Naruto Next Generations" will air on Wednesday, Sept. 20.
Meanwhile, the school trip continues in episode 26 titled "The Next Mizukage, " and the students go to the ninja academy of the Hidden Mist Village. The Sixth Mizukage – Chojuro is the guide as he tells them that a person skilled swordsmanship is highly regarded in the village. Meanwhile, Boruto is excited when he finds out the details about their daily lessons. Elsewhere, Chojuro wants Boruto and Kagura to participate in a sparring match with each other. Episode 26 is scheduled to air on Wednesday, Sept. 27 on TV Tokyo. Fans in the U.S. can catch the new episodes of the series on Crunchyroll and FUNimation.
Click to read more
and watch the video
or