'Boruto: Naruto Next Generations' Episode 23 Jump preview, spoilers
Sakura and Sasuke surprise Sarada with their perfectly coordinated attacks.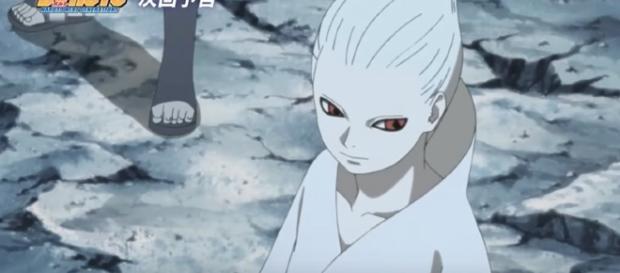 Shin and his clones have abducted Sarada's mother Sakura in the last episode. Now, Sarada along with Sasuke, Naruto and Cho-Cho head to the enemy's hideout to bring her back in "Boruto: Naruto Next Generations" episode 23.
Warning: This article contains spoilers from the upcoming episode.
Weekly Shonen Jump magazine has released the latest scoop for episode 23 of the anime series. According to the spoilers, the secret related to Sarada's birth is likely to be revealed in the new episode.
Can she beat Shin's clone and reunite with her family?! In order to save Sakura who was taken away by Shin, Sasuke, Naruto, Sarada, and Cho-Cho head to Shin's hideout. Sarada takes down Shin's clones together with Sasuke.
Can she rescue her mother by defeating Shin, and will she finally get an answer to the mystery of her real mother?
Boruto Episode 23 Preview
Episode airing on 6th Sept.

(Aw man didn't expect this arc to be so short)

Thanks to @YonkouProd for the scan <3 pic.twitter.com/rUXcq2tw63

— Ken Xyro (@KenXyro) August 31, 2017
Sakura and Sasuke's bond
Even though they have been apart for a long time, Sarada is surprised to witness their bond. Their relationship remains unchanged. Sarada is happy to see the bond the two share as they fight Shin with remarkable coordination. It looks like Sasuke and Sakura still trust each other despite being away from each other.
Shin attacks using the clone children
In episode 23, Shin is able to control and limit Sasuke's movements and orders his clones to finish him. However, the clones react in a different manner that will shock Shin. Will the clones team up against Shin and join hands with Sasuke, Sarada, and Sakura?
Meanwhile, in the previous episode, Shin Uchiha's clones have captured Sakura due to her Uchiha blood. Sakura is angry to witness Shin killing one of his children clones in order to use the organ. Elsewhere, Sarada, Naruto, Sasuke, and Cho-Cho decide to meet Orochimaru in his lab.
Naruto feels that since Orochimaru was Shin's master, he would know about his hideout.
Sarada is not sure about the plan, but Naruto tells her that they might meet the people from the photograph. Later, they meet Orochimaru and Sasuke asks him about Shin. Meanwhile, Sarada asks Suigetsu to run an experiment that would determine if she is Sakura's daughter or not. She is left devastated after she finds out that Sakura is not her real mother. She is furious and Suigetsu runs away from the emotional drama.
Naruto witnesses everything and calls Suigetsu an idiot for spelling out the truth. However, towards the end of the installment, he is able to calm Sarada down. Now, she is determined to rescue her mother from evil Shin.