'Dragon Ball Super' releases first footage of Goku's stunning brand new form
Fans have finally seen Goku entering his new Super Saiyan transformation during his battle against Jiren The Grey.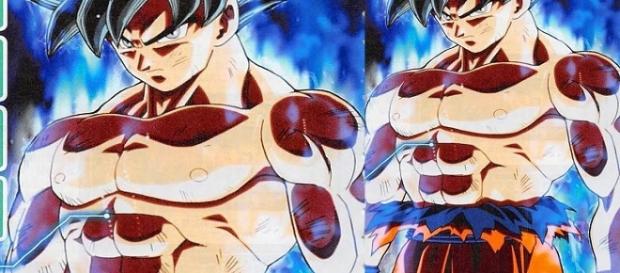 Toei Animation is currently promoting two of its most popular anime's one-hour specials, the "Dragon Ball Super" and "One Piece" that will take place in October. The studio has released footages of the two anime series but what piqued fans' interests is that the "DBS" footage shows Son Goku in his brand new Super Saiyan transformation. The anime's producer has teased before that the Saiyan fighter will enter another "new ground" and fans were quick to speculate that this will be a new transformation.
Others though suggest that it might be just power up, but it looks like it's not the case when V-Jump earlier last week featured Goku's new transformation.
Goku's stunning brand new form
The footage for "Dragon Ball Super" that was featured in Japan was to promote the anime's one-hour special, which is set to air in October 2017. Interestingly, the short clip shows Goku when he discovers that he can transform into a brand new Super Saiyan form but it might happen when Jiren puts him into trouble.
Fans have been waiting for these two powerful warriors to go head-to-head against each other and it might happen next month. It can be recalled when the Saiyan warrior challenged the Pride Trooper to fight but rejected him and sent his fellow team members instead. Unfortunately, most of them have been eliminated, leaving team Universe 11 in trouble with zero KO in the Tournament of Power leader board.
The "Dragon Ball Super" TV spot looks like it's trying to challenge both Jiren The Grey and Son Goku if they will be able to champion their "limit-breaking" battle.
These two warriors' impending battle has been one of the highly-anticipated battles in the Tournament of Power. Although fans have been patiently waiting to see them go head-to-head, it can't be denied that everyone is now anxious especially when the first look of Goku's brand new form was released. Now that a footage showcasing his new Super Saiyan transformation has been released, everyone is now looking forward to seeing him in his new form to fight Jiren.
When will the new form debut?
According to some "Dragon Ball Super" experts, the brand new transformation might be aired during the one-hour special in October.
However, some fans suggest that it's also possible that it will be showcased in Episode 108, which will be aired on September 24. The anime is expected to take at least a couple of weeks break to give way to "One Piece" one-hour special. That said, Goku's brand new form might debut before the anime's long week break. Sounds like a plan!
"Dragon Ball Super" Episode 106 is titled "Find it Out! Death Match Against an Unseen Attacker!" It is set to air on September 3.