'Dragon Ball Super': Is Goku's new transformation and battle vs Jiren soon?
Goku's transformation might be seen in 'Dragon Ball Super' and 'One Piece' crossover.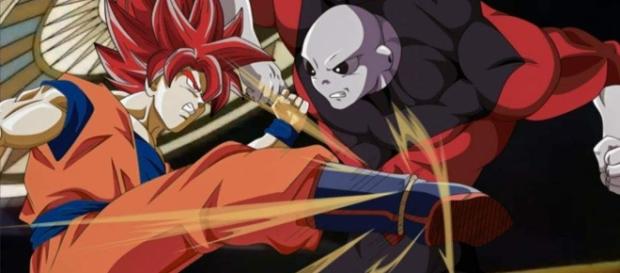 The Tournament of Power only has 34 minutes left and less than half of the participants remaining. The latest episode features Master Roshi, and it shows that only the powerful were left on the tournament stage. There are only six universes left and more and more warriors are falling. But the climax is yet to come, with Goku and Jiren's fight expected to be seen in October and the Tournament of Power ending in November.
Goku's new transformation
Goku's new transformation was previewed in a tweet by "Dragon Ball Super" official account earlier this month.
It features Goku with his upper Gi ripped and his chest exposed. He has silver eyes, and a bluish white aura surrounds him.
There is still no confirmation about the new form's name, but some believe that this form is the advanced version or the second form of Super Saiyan Blue (SSB2). DB and Goku fans are hyped because of this transformation. And to heighten the anticipation, a Promotional video was release containing info about the form's expected appearance.
'One Piece' and 'Dragon Ball Super'
A Promotional video was released featuring the Crossover television specials and what to expect in these special episodes.
The video first features an animation of Luffy and other members of the Straw Hat Pirates. The second portion of the video that represents the 'Dragon Ball Super' part does not contain animation from the Tournament of Power but it features an animated introduction to Goku's new silver form.
The video gave clues about the happenings in the Tournament of Power. The narrator states "Who will win in Goku's limit-breaking battle with his mightiest rival, Jiren of Universe 11?" Goku then said, "Dragon Ball Super airs at 9.00 am on October 8th."
"A certain transformation appears in the latest visual! Finally, a visual where Goku faces forward! his eyes shine silver, and he wears a stern expression!" the narrator said during the "Dragon Ball Super" portion of the video.
DBS producer has a say
Hiroyuki Sakurada, a producer of the show provided a comment to accompany the announcement. He said in his comment that "Starting in October, it at last reaches a turning point as Goku finally faces off with his strongest opponent, Jiren." A one-hour Autumn special will be featured on October 8th, which is expected to be the 'DBS' part in the crossover. "One Piece" will have its part aired on October 1, 2017. A poster of Goku and Luffy is up for grabs in a contest right now.
One can join the contest by retweeting the image. The deadline is on December 17 and five lucky retweeters will win posters.
【秋の1時間SP解禁ツイッターキャンペーン】10/1『ワンピース』10/8『ドラゴンボール超』朝9時より1時間SP放送決定!本アカウントをフォロー&当ツイートRTで野沢雅子&田中真弓サイン入りコラボポスターが5名に当たる!9/17までhttps://t.co/XqTDPgGdKm pic.twitter.com/omxh57ief6

— 「ドラゴンボール超」公式 (@DB_super2015) August 27, 2017
Click to read more
and watch the video
or