'Dragon Ball Super' Goku's new transformation will give him SILVER EYES
Super Saiyan transformations are giving Saiyan's eyes pretty contacts everytime.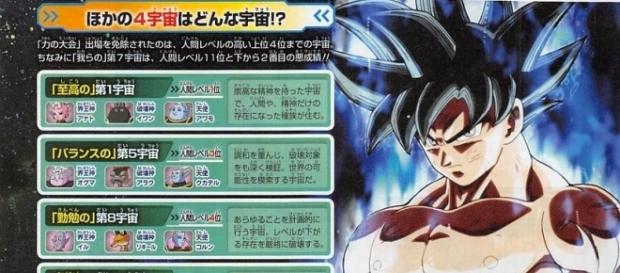 The Tournament of Power is still got that "happy vibes" all over, with Goku running around looking for Jiren. But when the Universes are only down to two or three, mistakes means defeat. And defeat means erasure of the universe. And for desperate situations, there is a usual repetitive theme for the Saiyans: a new transformation to defeat the enemy and save the Earth.
Goku is always the first one to get a new Super Saiyan form. The hype train has been running for quite a long time now, fueled by leaked picture of his tense back a long time ago.
Fans can't wait to see what kind of transformation will Goku have this time. And for fuelling the Hype train further more, a teaser has been released.
Goku's new transformation
After the picture of Goku's tensed back, and the confirmation of Goku's new form by one of Super's staff, a new transformation would be seen. The next transformation that will be seen in the anime is the Super Saiyan God which Goku will be using to help Hit. Since this form is more power efficient than the Blue, Goku will be able to conserve his energy to pave the way for a greater Super Saiyan transformation.
And according to Otakuart, Goku will be having a couple of pretty silver Eyes.
The Twitter account of Yonkou Production (@yonkouprod) confirmed Goku's transformation via a picture which shows Goku's front transformation. His body build hasn't changed, and it shows how messy his hair is (Goku has a five spiky bangs and a couple of "devil horn" in his hair). Goku also has a bluish white aura around his body. But the most badass feature of this new transformation is Goku's SILVER eyes.
Full page pic.twitter.com/r9VRQ00flz

— YonkouProductions (@YonkouProd) August 17, 2017
Goku has this beautiful looks out of his eyes.
You just know that Goku is serious as heck and is not fooling around anymore. Unlike his more powerful forms, there is no arrogance in his facial expression, just pure business. It is assumed that Goku will use this form in his fight with Jiren. It might be possible that Jiren and Goku are the only characters left and only two Universes are the only one battling for the Super Dragon Balls.
This could be the Super Saiyan Blue 2 or an advanced version of the Blue form. This is not a new transformation, only a new form, as the bluish aura is still that of Super Saiyan Blue.
This is expected to be a destructive one, with Goku tapping on his limit and breaking it again. Hopefully, Jiren and Goku battle is now near, as the excitement over this form cannot be contained,