'Dragon Ball Super' Goku's new form officially revealed in a new trailer.
Toei Animation officially released a new trailer that reveals Goku's heavily speculated form.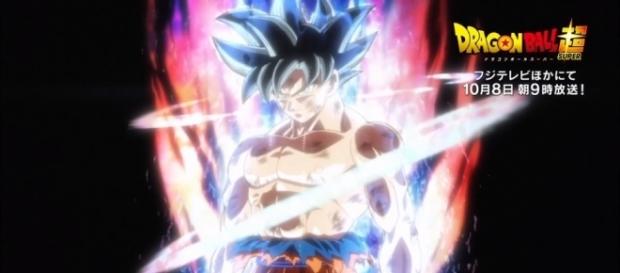 After several months of speculations, finally, the long wait is here. Toei Animations released today a new trailer that officially confirms Goku's most talked about transformation. The short TV spot is launched today to advertise the two-part one-hour specials of the popular anime series' "Dragon Ball Super" and "One Piece."
New Form
Several weeks ago, a promotional image from "Dragon Ball Super" was released to celebrate the start of the Tournament of Power in the popular anime series. The image has sparked various speculations from the community as it was perceived that it is the new form of the series' protagonist.
Fans made theories and even christened the alleged new form with names. Even the chocolate shaped after the Saiyan advertised in Japan was made as a reference to Goku's alleged form.
For several weeks, the team behind the anime series has been very silent and has not released any statement about Goku's new form. However, Toei Animation released today a TV spot that confirms previous speculations about the hero.
New trailer
On October, two TV specials are scheduled to air. "One Piece" will first air from 9 AM until 10 AM of October 1.
On the other hand, "DBS" TV special is scheduled to air on October 8, at the same block. In line with this, Toei Animation and Fuji TV released the first promotional video for these television specials.
The video shows the hyped form of Goku with blue and light red aura surrounding his body. The Saiyan hero was also teased fighting against Jiren. The trailer is also supported by a special comment from the anime series' producer Hiroyuki Sakurada. According to the producer, October will mark as the climax of the Tournament of Power. Fans can look forward to seeing the fan-favorite hero fight his strongest opponent in the tournament, Universe11's Jiren.
Episode106 spoilers
Meanwhile, another action-packed episode will air next week as Gohan and Piccolo will have a deathmatch fight against an invisible opponent. Aside from being unseen, the opponent also does not leave any trace making it harder for the fighters of Universe7 to even detect its aura. In the same episode, Tenshihan will help his friends locate the enemy using his special technique.
Episode 106 will also feature the Prince of Saiyan Vegeta. It seems that he will have a hard time with his opponent in the upcoming episode because he has underestimated his enemy's ability.
With 34 minutes remaining and almost half of the fighters eliminated, "Dragon Ball Super" episode 106 will be another exciting show.
Click to read more
and watch the video
or