'Dragon Ball Super' Episode 105 preview trailer: Master Roshi vs tempting Caway
Master Roshi (Turtle Hermit) is set to battle for the first time in the Tournament of Power.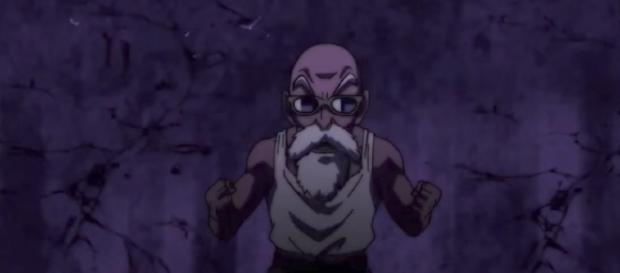 Master Roshi has only observed the Tournament of Power from the sidelines with no intentions to fight. But, looks like he will be up against the fighters of Universe 4 in "Dragon Ball Super" episode 105 titled "Brave Fight! Muten Roshi Stakes His Life!!" Warning: This article contains spoilers from new episodes of the show. Read if you wish to know more.
Official preview trailer video
In the promo for new DBS episode, Master Roshi is seen in action and Goku explains that he is performing great due to his remarkable training.
As he enters to battle the fighters, the warriors from Universe 4 challenge him. Goku asks him if he is ready to risk his life to pull off the big attack. He urges the Turtle Hermit to not to die.
Turtle Hermit vs. Caway
Quitela is the boss of Universe 4 and the God Of Destruction wants Caway to lead the battle against the Turtle Hermit, according to Weekly Shonen Jump spoilers. Caway is tempting and Quitela is aware of his weakness. It will be interesting to witness if he can curb his desires and overcome his weakness for the sake of his universe, the tournament of Power and his teammates.
"Universe 4 attacks with sex appeal! The God of Destruction Quitela leads the Universe 4! With the warrior Caway at the forefront, they use sex appeal against the Turtle Hermit!! The Turtle Hermit has always lived according to the appetites of the flesh, but how will he react now?!" excerpt from the complete Jump preview for "Dragon Ball Super" Episode 105. King Ryu is the in charge of the script, Hirotaka Ni is the animation director and Masanori Sato is the director of the episode.
Episode 104 quick recap
In the last Sunday's episode, the Pride Trooper Dyspo meets Hit and declares that he has arrived to defeat his Time-Skip technique.
Meanwhile, Caulifla tells Kale that there is nothing to worry about as Hit as he can take down his opponent. When they both collide, Dyspo is able to punch Hit on his face. Champa is shocked but says that it can be a fluke.
Dyspo is impressed that his enemy is able to stand the attack and is cool about it. But, he is displeased to see his confidence. Champ still has concerns about the speed at which Dyspo is attacking. Meanwhile, Toppo claims that he is resilient and hardened by battles to the point that he is faster than light and sound.
Watch the complete installment on FUNimation, Daisuki, Anime Lab. The new installment of DBS will air on Sunday, Aug 26 on Fuji TV.
Click to read more
You will watch a video to read the news
or