'Dragon Ball Super' episode 105: Master Roshi goes all out, will he be out next?
The new preview for the next 'Dragon Ball Super' episode puts the spotlight on Master Roshi.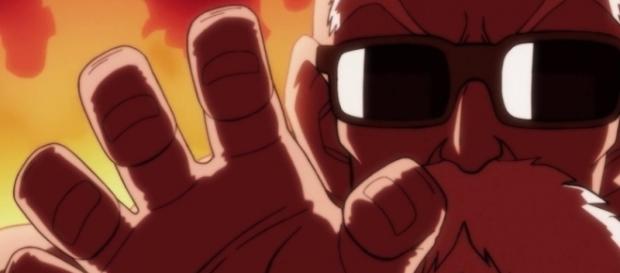 The next episode of the "Dragon Ball Super" anime series is scheduled to air this weekend as the Tournament of Power gets more intense. It has been revealed through official updates as well as the new preview that Master Roshi will be going all out in the upcoming episode, which led fans to believe that he might just be eliminated next.
Official spoilers and updates from Weekly Shounen Jump, a Japanese publication that reports on various anime and manga series, were released for the upcoming episode of "Dragon Ball Super" anime series.
The said anime is currently in its Universe Survival Saga arc and the Tournament of Power has still 35 minutes left before it officially ends.
Aside from the remaining time, there are still a number of warriors left even after teams from Universe 9 and Universe 10 were eliminated and annihilated. The official updates reveal that the new episode will be focusing on Master Roshi's next battle and it seems like it won't be an easy one.
The Turtle Hermit springs into action
Shortly after separating from his group and dropping their original plan, Master Roshi immediately gets entangled with another battle.
The 105th episode of "Dragon Ball Super" has been titled "Brave Fight! Master Roshi Stakes His Life," which has brought speculations that he might just be eliminated next.
However, in the official preview revealed last weekend, it seems like the old Turtle Hermit has something up his sleeve. He's attempting to use a deadly technique that might endanger his life so he isn't just in danger of getting eliminated but Master Roshi might also die.
The update hinted that Master Roshi will be in a pinch since even Son Goku will appear to try and help him. However, Goku fails to help the Turtle Hermit because someone blocks his way.
Master Roshi vs. Caway
According to the updates from Weekly Shounen Jump, Master Roshi will be going up against a beauty from Universe 4's team named Caway. It seems like this has been the plan of Universe 4's god of destruction all along, to use sex appeal to distract enemies.
However, Quitela's plans are thwarted when the Turtle Hermit seems unfazed while fighting Caway. This instance isn't a surprise for Universe 7 since he went through a grueling secret training before the tournament to get over his weakness when it comes to damsels.
The update further revealed that the Tournament of Power changes every moment that while Goku and Hit teamed up against the Pride Troopers of Universe 11, Master Roshi is already trading blows with Caway.