'Dragon Ball Super' Episode 105: Is Roshi the next victor?
The next episode of 'Dragon Ball Super' will feature the Turtle Hermit and Goku's master, Roshi as he faces Caway.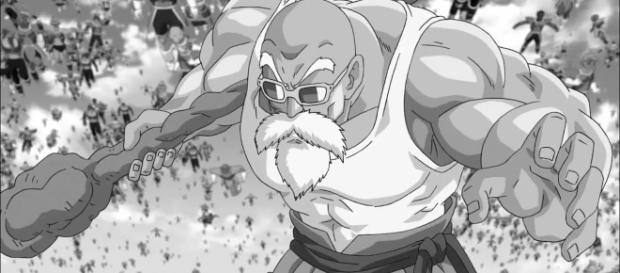 The new spoilers for the "Dragon Ball Super" episode 105 are all about the Turtle Hermit, Roshi. Will Universe 4 suffer destruction? This week's episode title is "Brave Fight! Muten Roshi Stakes His Life!!" With Goku and Universe 6's Hit joining forces to fight in the tournament, the situation in the Tournament of Power is changing with every episode.
What will happen in Episode 105?
Roshi is the man of the hour. Therefore, Tien will be the only character who has not yet been seen battling in the Tournament of Power.
Based on recent spoilers, as Goku steps into help Roshi, something blocks his path. Roshi has been analyzing their opponents. Apparently, his plan is to study each participants' power, skills, and techniques which he'll then use to his advantage.
Roshi has been training secretly for the Tournament of Power. On Episode 105, Roshi reveals the outcome of his secret training as he faces the next fighters of Universe 4.
A hard to resist enemy
The Turtle Hermit Roshi will be facing Universe 4′ Caway.
Together with Universe 4's God of Destruction, the mole-looking God, Quitela, the team battle against Roshi. Caway attacks the Turtle Hermit with sex appeal. Will Roshi resist all the attacks of Caway?
The spoilers suggest that Caway will be a tough opponent for Roshi because he is well-known to have a penchant for sexy women. Caway, a humanoid female with delicate features such as blue eyes, green skin, and long pink hair is considered to be very beautiful. She also has a slender and curvy figure that will be hard for Roshi not to notice and to resist.
Fans of the series hope that Roshi will conquer his weakness to save the universe and to win for the team. He trained formidable warriors like Goku and Gohan so most likely, he will beat Caway and Quitela.
Will Universe 4 finally reach its end or will Roshi be knocked out?
The information revealed indicates that the Omni-King, together with the Gods, is closely monitoring the outcome of the battle. Predictions are that a universe will reach its end in the upcoming episode. To update the current standings of the Tournament: Universe 4 is close to its destruction.
If Roshi loses this battle, Universe 7 is still safe but he will be the second person from Universe 7 to ring out.
It is another exciting episode of the "Dragon Ball Super" saga. Watch out for "Dragon Ball Super" Episode 105 on August 27. Episode 104 is to premiere today, August 20.
Click to read more
You will watch a video to read the news
or