'Dragon Ball Super' Episode 105: Episode title, synopsis, and potential spoilers
Here's everything you need to know about 'DBS' Episode 105. plus 'One Piece' crossover and Tournament of Power end date.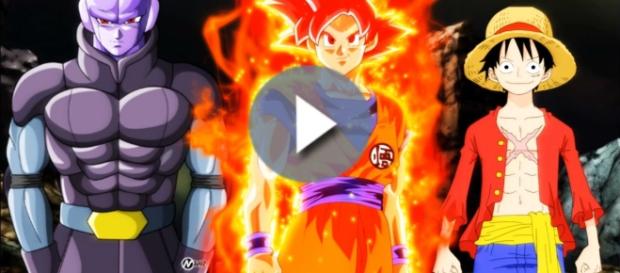 Spoilers for "Dragon Ball Super" episode 105 just arrived thanks to Yonkou Production who uploaded the scanned clipping of Jump Magazine cover and Ken Xyro for his quick translations. You may be wondering why we have Luffy included in this article's display image. We will talk about it later and the rumored end date of Tournament of Power arc.
Episode 105 spoilers
"Dragon Ball Super" Episode 105 has the title, Fierce Battle! Master Roshi's Burning Spirit!! The synopsis reveals that Goku and Hit will join forces.
This hints that the two are either still fighting the Pride Troopers by then or the troupe has been defeated at the end of Episode 104.
Dragon Ball Super Epide 105 details!
Episode airing on August 27.

Thanks to @YonkouProd for the scan! pic.twitter.com/7BFjhPgKzW

— Ken Xyro (@KenXyro) August 17, 2017
Now, you can imagine that Goku and Hit gear up to fight Jiren and Tofu. Will these elusive fighters bite the bait? That's the closest thing to happen but I still recommend that you watch it this Saturday.
Meanwhile, the real star of this episode is Master Roshi.
The episode title says it all. We know that Master is going up against a sexy fighter from Universe 4. Our favorite old man from Universe 7 has been training a lot for this tournament. He's also been showing us many techniques in the previous episodes. So it's not hard to assume that he'll put up a valiant fight.
However, there's a gut feeling that hints he's going to end up ousted from the competition the same way Kuririn was kicked out. "Dragon Ball Super" Episode 104 airs this Saturday, August 19 at 9:00 p.m. JPT. Episode 105 follows a week after.
'One Piece' crossover
Now back with Luffy's inclusion in the thumbnail. MaSTAR Media reported that Yonkou Productions thinks that there will be an hour special of "Dragon Ball Super" and "One Piece" crossover. "DBS" production has done this before in a video game and in another special crossover battle featuring Goku, Luffy, and Toriko.
This special still has a long way to go. So we'll have to wait for a couple more weeks for related information to arrive. Surely, it will be very exciting and fun.
Tournament of Power end date
Gojitaaf, another famed "Dragon Ball Super" insider, believes that the Tournament of Power ark will last until November 2017. This news wasn't a hundred percent confirmed but according to what he posted on his Facebook page, his confirmation follows' that of Trunks ark schedule. If his words are to be trusted, "DBS" only has 12 or fewer episodes to be shown before arriving at the ToP conclusion.
Are you excited for "DBS" and "One Piece" crossover? Which ark would you like to be explored next? Share your answers in the comment section below.
Click to read more
You will watch a video to read the news
or