'Dragon Ball Super' and 'One Piece' won't have a cross-over episode but specials
Two of the most popular animes 'Dragon Ball Super' and 'One Piece' will not have a collaboration but two separate specials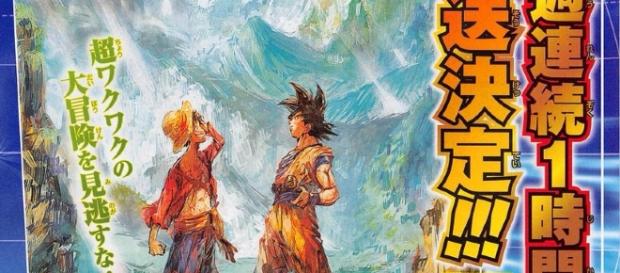 The latest key visual reveals that contrary to the previous speculations, "Dragon Ball Super" and "One Piece" will not collaborate. Instead, the two popular animes will have their own TV specials in two separate schedules that will run for an hour.
Latest Key visual
The Japanese publication Weekly Shonen Jump recently released a key visual which reveals the schedule of the upcoming TV specials of "Dragon Ball Super" and "One Piece." The one-hour TV special will be shown in two parts. The first part will air at 9 AM on October 1.
During this schedule, "One Piece" will be featured in the one-hour TV special. A week later, on October 8 of the same broadcast block is "Dragon Ball Super's" turn to air.
Weekly Shonen Jump's latest issue provides a look at the popular anime series' heroes Luffy and Goku. The duo appears to be looking off into a mountainous landscape with a look of hope on their faces. So far, no additional details are available except for the series' TV specials airing schedule.
Previous speculations
A few days ago, the fandom of two popular animes was shaken when information surfaced all over the web that the two popular animes will collaborate and have a one-hour TV special.
Other fans liked it and even justified that this is not impossible since this was done in the Manga in 2006. Titled "Cross Epoch" Manga creators Eiichiro Oda and Akira Toriyama collaborated for a special manga chapter.
The cross-over Manga features the main characters of the two popular animes making their way to a tea party hosted by Shenron. On their journey to the party, they encounter several hindrances including Emperor Pilaf and buggy the Star Clown who are the leaders of the Pilappaggy Villain union.
Some fans claim that Eiichiro Oda is a fan of Akira Toriyama and even admitted being inspired by his popular work and storytelling while creating "One Piece."
Meanwhile, the action continues in the 105th episode of "DBS." The upcoming episode will put Muten Roshi in the spotlight. He will face one of the powerful fighters of Universe4. The gentle universe will fight against their enemies in the Tournament of Power using their sex appeal. With the Turtle Hermit's penchant for sexy women, fans are wondering if he will be able to survive the fight against Caway.
Spoilers for the 106th of "Dragon Ball Super" were also released recently. The spoilers reveal that Gohan and Piccolo will be in a Death Battle against an invisible and untraceable enemy.