'Dragon Ball Super': an old technique that will lead to Master Roshi's death
It looks like the Turtle Hermit will have a hard time deaoling with a sexy warrior and might use this technique to defeat her.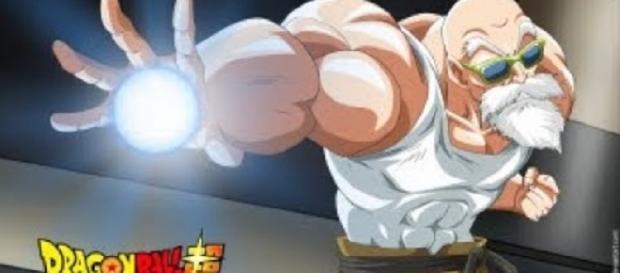 "Dragon Ball Super" Episode 104 has seen Dyspo's incredible speed during his battle against Universe 6's Hit and its God Of Destruction Champa. There will be more explosives coming to the anime's ultimate Tournament of Power including Master Roshi's fight against a sexy warrior from Team Universe 4. The Turtle Hermit has trained hard with Puar and Oolong before in preparation for the battle royal to overcome his urges on sexy women. Some fans are confident that he will be able to defeat this attractive fighter, but others doubt his ability given his perverted nature. In the upcoming episode, spoilers suggest that the old master will use a familiar technique that might put his life at risk.
The return of Evil Containment Wave
In "Dragon Ball Super" Episode 105, Master Roshi might use the Evil Containment Wave, or known as Mafuba, which seals the user's opponents into a container with a Demon Seal on it. This technique though requires massive "stamina and endurance" from the user. Otherwise, he will eventually die after doing it regardless how successful the release of the said technique and this might lead the Turtle Hermit stake his own life. Despite his extensive training back on Earth before the Tournament of Power started, the old master might have a hard fighting against a sexy warrior due to his perverted nature.
Caway, the sexy warrior from Universe 4, is said to be in the forefront in the battle royal lead by the God of Destruction Quitela.
The promo for "Dragon Ball Super" Episode 105 shows that Master Roshi might end up using the Evil Containment Wave against Caway. It can be recalled when the first users of this technique died, but as the DB universe fighters get stronger over the years, it's possible that the Turtle Hermit might survive. However, since the old master isn't as strong as the other warriors who were able to overcome the deadly result of using the technique, he might still put his life in danger after using this on the attractive fighter.
Will the old master survive?
In the promo for "Dragon Ball Super" Episode 105, fans can see the bottle that Master Roshi placed below him. Experts suggest that this might be the container that he will use to seal Caway away by sucking her into the bottle. Given the idea that he might be defeated if he can't overcome his urges on attractive women, it's highly possible that the Turtle Hermit will use this old technique that he invented before with Master Mutaito. After all, his home is on the line, and he will certainly do his best to champion his team in the Tournament of Power.
"Dragon Ball Super" Episode 105 is set to air on August 27. It airs on Crunchyroll on Saturdays at 7:17 PM CST. It's English dub airs on Adult Swim at 11:30 PM. Stay tuned!
Click to read more
and watch the video
or