'Dragon Ball Super': a strange message in the latest ending in the series?
The most recent ending in 'Dragon Ball Super' could give us details about the future.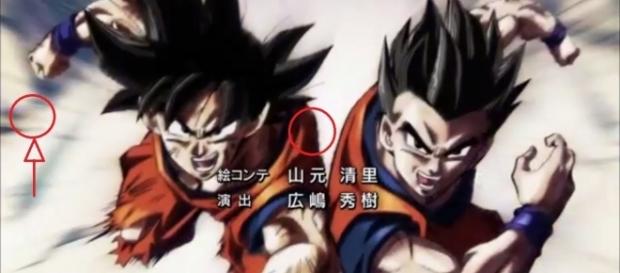 Perhaps many of you have noticed that since the beginning of the saga, they sometimes will give us small spoilers or clues about certain events that might happen later on in the #Series. On this occasion, we will be talking about the ending of the #tournament of Power saga.
The last finalists in the tournament?
In this ending theme, we can see Goku, pretty beat up and in the middle of a place that looks mostly destroyed; in this case, the platform of the tournament. In addition, we are briefly shown certain participants in the Tournament of Power, who, based on what we've seen in the series, are the ones with the most participation or relevance as Saiyans of Universe 6: Hit, some participants from Universe 11, but mainly Jiren.
On the other hand, we have Gohan, who joins Goku's side, leading us to believe that these two characters will join forces to finish off all the other participants in the tournament.
Gohan back in action?
It's true that we haven't seen much participation from this charismatic character in the tournament, but thanks to the titles of the upcoming episodes, we know that he will have some participation in episode 103. In this episode, Gohan, along with the other participants from his universe, will have to face off with Universe 10.
On the other hand, we still don't know if Gohan will have a fight with some powerful character like Toppo or, as many fans are hoping, against Jiren. Don't forget that Gohan has great potential and is capable of reaching high levels of power, as we saw throughout the entire story of '#Dragon Ball Z'.
For this reason, it's possible that we will see great battles from this character in this grand tournament.
Good battles left to go in the tournament
Finally, we should recognize that there are still many good battles left to go in the tournament. So far, no battle has really stood out, since many of the enemies that have been confronted are weak. But little by little, we will be left with the strongest participants from each universe, meaning the best fights are yet to come. It's worth pointing out that many are waiting for Goku's new transformation, which could be shown in a battle of the Saiyan against Jiren.
For now, that's all the information we have about this series. You can leave us your opinions and share this post with your friends on Facebook, Twitter or any social media. We'll be keeping you up to date on any news from this popular series "Dragon Ball Super."