'Boruto: Naruto Next Generations' episode 21 spoilers: 'Sasuke and Sarada'
Sasuke and Sarada's tense relationship is at the forefront of the episode.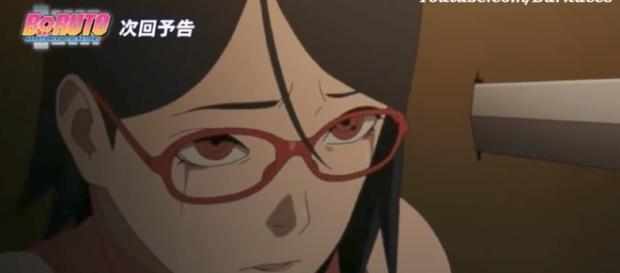 Sasuke will have to respond to his daughter's question in "Boruto: Naruto Next Generations" Season 1, Episode 21. The episode revolves around Sarada and Sasuke's relationship dynamics.
Warning: This article contains spoilers from the new installment.
Naruto and others attacked
In "Boruto: Naruto Next Generations" Episode 21, Sarada is hurt by what her father has done. She is finally meeting him, but deep down she is deeply hurt. Meanwhile, Naruto is looking out for her as he is worried about her well-being.
Sarada and Naruto are having a conversation but they are ambushed by a Sharingan user. He is the mystical parent of Shin Uchiha.
Tension between father and daughter
She is ready to meet her father and fulfills her wish to meet him.
However, she cannot stop her tears rolling down her cheeks when she sees Sasuke looks disinterested and gives him cold shoulder. Episode 21 shows the hearty wishes of Father And Daughter comes to light. Meanwhile, Naruto urges her to talk to his dad again as she steps away from him. Can Sasuke answer her queries?
Cho-Cho is upset
Cho-Cho cannot take the pressure. She is unable to handle the entire tension between Sarada and the others because of the parent and daughter relationship. She tells Sasuke to at least work on getting along with his daughter.
Meanwhile, in the preview trailer for episode 21, Naruto is asked why he brought children with him. The scene cuts and, Sarada is seen asking her dad Sasuke if he even cares that he has forgotten his daughter's face. Meanwhile, his cold attitude towards her is a painful sight.
She is hurt by his actions and attitude. Watch this installment on August 23.
Boruto Episode 21 details.
"Sasuke and Sarada" airing on August 23.

Thanks to @YonkouProd for the scan! pic.twitter.com/EDFJLv1thU

— Ken Xyro (@KenXyro) August 17, 2017
Episode 22 bonus spoilers
Taking things forward from episode 21, in the new installment titled "Connecting Thoughts," Sakura is captured by the mysterious foe named Shin. Sarada is left shocked. Meanwhile, Naruto is unable to track her despite having superior sensory skills. Elsewhere, Sasuke thinks about the number of Sharingan present in Shin's arm. The group plans to visit the lair of Orochimaru to learn more about the arm and find clues that can help them in their quest. The episode will air on August 30.
Episode 23 spoilers
In the 23rd installment of the anime series titled "Shape of Their Bonds," Sarada teams with her dad to rescue Sakura from Shin and they head to his den. The duo fights the clones and finds her. Later, she is surprised to see Sarada and Sasuke battle with remarkable coordination despite being away from each other for such a long time.
Click to read more
and watch the video
or