'Boku no Hero Academia' celebrates its upcoming arc with a new art
The hit anime is entering it's new arc with full force and it looks like season 2 will have more episodes.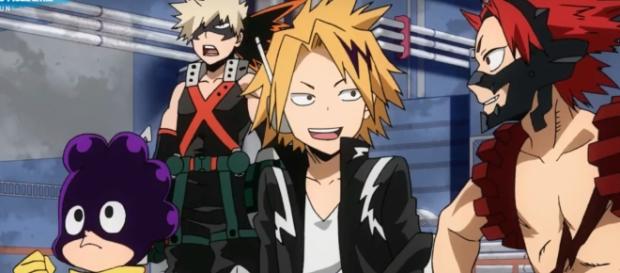 "Boku No Hero Academia" season 2 is on a roll. The anime has already over 20 episodes now and it looks like there is no stopping the series. Fans are over the moon with this development, as there are a lot of things they're looking forward to seeing in the anime adaptation. They have a lot of material to cover after all.
Recently, the show just finished animating the Hero Killer Arc. With episode 21 finally putting the lid on top of the story, the show welcomes a new one. To celebrate this upcoming arc, the official "Boku no Hero Academia" website uploaded a new artwork for the fans.
Hero Killer Arc finished
During the past episodes of "Boku no Hero Academia" season 2, three students from UA class 1-A saw themselves fighting for their lives. Tenya Iida, Shouto Todoroki, and Izuku Midoriya found themselves fighting the notorious hero killer, Stain.
Tenya who was determined to avenge his brother from the Hero Killer, fought him straight up but almost immediately lost. The boy ended up paralyzed in the ground due to the other's quirk and was about to be killed. Then, Izuku showed up to save him.
Deku, who just discovered a new way to use his power, put on a good fight until he too was paralyzed by Stain's quirk. Luckily for him, Shouto arrived to help them, and the two boys teamed up to fight him. The battle ended with the three teaming up to restrain him. After the incident, Stain was finally arrested.
The three ended up in the hospital after that, with each of them having injuries to heal from. The Hero Killer Arc officially ended in episode 21, as the anime introduces a new arc and a much larger enemy.
Final Exam Arc
Summer is officially here for class 1-A. "Boku no Hero Academia" season 2 episode 21 saw the aspiring heroes going back to school to talk about their internships. By the end of the episode, it was finally revealed that before they have their most awaited vacation, they have to pass their exams first.Little do they now that there is more to the test than just answering questions on paper. In the upcoming episodes, class1-A will find themselves fighting against their teachers to pass a practical exam.
To celebrate this new arc, the official "Boku no Hero Academia" website uploads a new image featuring the central participants of the upcoming final exam arc.
Are you ready for another action packed chapter? "Boku no Hero Academia" is based on the hit manga series by Kohei Hirokoshi. The anime is currently airing its second season.