'Dragon Ball Super': Images of Blue God Caulifla and Chapter 99
It reveals the possible new transformation of Caulifla in blue God mode.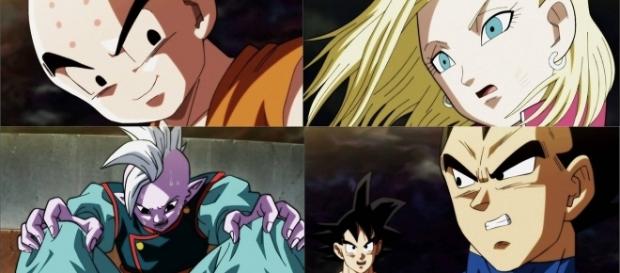 Just a few hours before the official opening of Chapter 99 of "Dragon Ball Super" and they finally have just revealed the first official Images of the premiere chapter today. As every Saturday morning, the official page of "Dragon Ball Super", via Twitter, shares the incredible first pictures of what we would see in today's episode. The images revealed today belong exclusively to the Universe 7.
First image: Goku and Vegeta
After the collaboration of both in the last chapter to defeat the trio of danger and the rest of the members of the Universe 9, now we see them together again in a new scene.
Goku seems much calmer now and wants to propose something to Vegeta. As expected, Vegeta does not seem to be at all comfortable.
Second image: Krillin, Android 18 and the supreme Kaio Sama
We noticed the presence of Krillin, who will take all the leading role in today's chapter as he will be the first to fall from the universe seven, leaving his team in grave danger after missing a member.
The Supreme Kaio Sama does not seem to be all right because the concern of the Supreme is noted after having contemplated some terrible event for the Universe 7. Also, we see the Android number 18. Her face expresses concern as she will end up being the one who suffers most after the fall of her husband, the little Krillin.
Third image: Caulifla blue god
As an exclusive detail, one of the animators in the series also shares an incredible image about Caulifla and its possible transformation into Super Saiyan Blue.
Just a few minutes ago, the animator just shared a design of Caulifla into a Blue God, through a sketch. However, do not rule out that we can see it in the series soon.
今日の昼練、(╹◡╹)下手なので、練習あるのみ 、カリフラも多く描いてるのに難しいですね。この前の落書きも一緒にどうぞ。今イケメン描いてたら落書きで休みたくて、( ̄▽ ̄)困ってます。#ドラゴンボール超 #カリフラ pic.twitter.com/cXdYLOAIrn

— 申榮淳 shin youngsoon (@truebard) 14 de julio de 2017
The same animator had already shared some sketches previously.
For example, sketches of scenes that happened in the preliminary tournament and even in the recruitment of the fighters that would confirm the equipment of the seventh universe. It is necessary to emphasize that the animator also makes sketches for his own pleasure. But, on this occasion, it may be to give us an example of how Caulifla would look if she acquired the transformation of the blue god. Will it be the biggest spoiler of the week?
Today, Chapter 99 opens at the same hour as always, whose plot would reveal the events that followed the eradication of the ninth universe.
This was the most recent news from the world of "Dragon Ball." If more information is revealed, we will publish it immediately. Next, we will show you the progress of the upcoming chapter of "Dragon Ball Super," via some leaked information about this saga.
Click to read more
and watch the video
or