Frieza joins the Universe 4 - 'Dragon Ball Super'
The newly resurrected Frieza will betray Goku and the others before starting the Power Tournament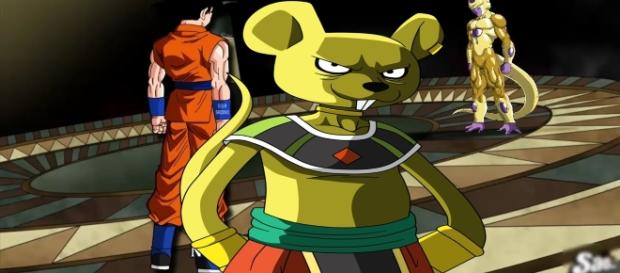 In chapter 93 of "Dragon Ball Super" we could see the long awaited reunion between Goku and Frieza, in which we saw how Goku recruited the demon of the cold for the "Tournament of Power", because Majin Boo has fallen a sleep and does not wake up.
For many of you Frieza, is one of the most fearsome villains and for that reason makes a betrayal to the universe 7th, who gives you their confidence to help them win the Tournament of power but it will not be so since Sidra and Quitela, Gods of the destruction they decide to bribe their participation to leave to the Universe 7th and this is how the magazine concludes with something traffic that when reading the whole note you will be able to know more details.
Chapter 96 Title: A new crisis! Where is the tenth member?
Synopsis: Frieza has joined the team of Universe 4th and Universe 7th urgently needs a new member. There is no more time, so Goku and the others decide to attend the Tournament with the incomplete team. There, a person appears. As you see, Frieza betrays Goku, who had promised to return his life with the Dragon Spheres once the Tournament ends.
The plot
However, beyond that, Frieza will join the team of Universe 4th commanded by the God of Destruction Quitela, who will seduce Frieza with empty promises which we believe will not fulfill.
As if that were not enough, it is revealed that a new Warrior will be the tenth member of Goku's team, although nothing is known about this person.
The only indication of this mysterious Tenth Warrior is one that can be taken as a joke to some, as the Japanese dubbing actor who gives life to Yamcha has raised suspicions on Twitter, implying that he could be the tenth Warrior.
Additional information
Nevertheless, the synopsis on this Warrior mentions that this one would be in the world of the void, reason why would be impossible that it is Yamcha, because this would not have way to travel to that place. Likewise, a small part of the fandom believes that Frieza could claim before the Tournament and return with Goku's team.
However, and not in order to kill the hopes of the fans, we must remember that Frieza is a character who plays rather dirty and is very treacherous, so we think he will not have such regret.
Equally - if it has one - it would be a great help for Goku's team, as his power is vital to win the Tournament and is the only one able to replace Majin Boo.
For now, this has been the latest news regarding the world of "Dragon Ball" and if more we will be communicating it immediately so you can follow us on our Blasting News portal where you can also read different news that happens in the rest of the United States.
Click to read more
and watch the video
or