'Dragon Ball Super': What would have happened if Goku married Lazuli?
Here we will leave you many proofs that represent the platonic love of the Lazuli Android to Goku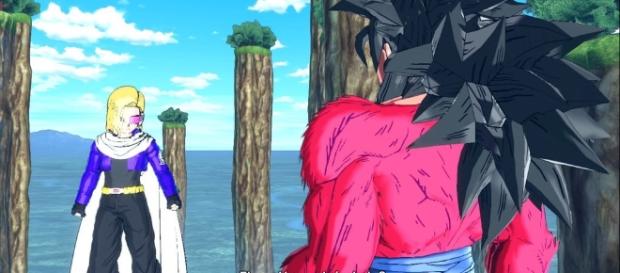 A few hours ago, V-Jump magazine revealed many events about Android 18, who is in charge of taking care of her daughter, although everything seems to be very different since she has a new beginning to participate in the Tournament of Power.
Your friend Goku has decided to trust her, since being an Android was designed to absorb the energies and increase them without losing their power, this means that Dr. Gero knew that an Android having these qualities, can be the creature Stronger at the level of the 12 Universes.
Many wonder who are Lazuli and Android 18?
Actually, creator Akira Toriyama, many years ago revealed the interesting facts about the Android siblings, what are known as A-17 and A-18; But they are named after Lapis and Lazuli, is something that makes them more twins since their names begin with the initials "La", which in the country of Japan means the arrival of evil. It's also worth noting that Lapis Lazuli is also a semi-precious stone so the Android siblings together are named after it.
If many remember that the Androids were the threat of planet Earth and the 12 Universes, that their plan was to eradicate the Saiyans and they could reign with the robotics and the humanoid machines and thus they live in tranquility
The plot
Then it means that Lazuli is his real name and Android are abbreviated acronyms, not to confuse the others that were designed in the laboratory of Dr. Gero. The bad news this doctor was assassinated by his own inventions since they own a human heart and made them reflect that the war on humanity was only a malicious plan of Dr.
Gero and not a threat that the Saiyans have created.
While the probability exists that in the saga of "Dragon Ball Z," the Android had fallen in love with the power that has Goku and his abilities considering his person like a great fighter of the martial arts, this in the android had aroused a great interest of To strengthen a relationship beyond friendship.
But did the unexpected happen for Goku?
The legendary warrior of the anime was already married and for that reason could not have a relationship with the Android, but making a hypothesis, they would have been a very different couple since she likes the rough guys and probably this would make Goku jealous.
And thus their relationship would have come very quickly to an end.
For more news related to the anime "Dragon Ball Super," you can follow us on our Blasting News portal so you do not miss anything about rumors and what will happen in each chapter.