'Dragon Ball Super' spoilers: episode 94&95 reveals Sidra & Quitela's evil plan
TV guide summaries for episode 94 and 95 of 'Dragon Ball Super' came out today and reveals how Frieza annihilates his enemies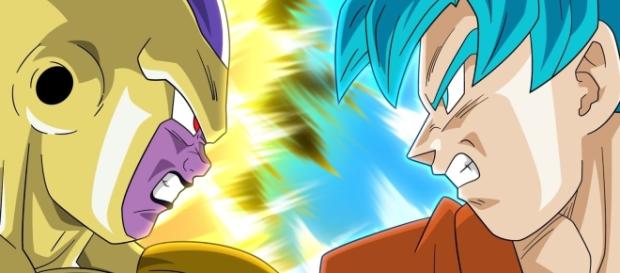 The action continues in the next episodes of "Dragon Ball Super." While fans were disappointed that Majin Buu was dropped from the Tournament of Power, the inclusion of Frieza just blew the fandom away. There are so many speculations right now about the villain and the reactions of other participating universes upon hearing this horrifying news. To some fans, alliances will be formed, while several others speculated that other universes are hatching a plan to destroy the super villain before he ever gets to step in the Battle Royale. To have a guided and informed speculation, the recent summaries could be very helpful.
Summaries and schedules
Todd Blankenship translated and revealed today the latest TV Guide summaries for episode 94 and episode 95 of "Dragon Ball Super." The 94th episode will air on June 11 and is titled, "Resurrection of the Evil Emperor! The Mysterious Awaiting Assassins?!" The summary tells us that after closing his deal with Frieza, Goku comes back to Capsule Corporation.
On the other hand, Quitela, Universe4's god of destruction communicates with Sidra, Universe9's god of destruction. The meeting of these two gods is about Goku and other members of Universe7.
In our previous article, we discussed Sidra's plan to destroy Frieza before he even gets to Tournament of Power. Most likely, the meeting would involve planning and strategies on how to destroy the super villain and the entire team. Goku's team is a threat to other universe and if they will not strategically plan and work with other teams, their chance of survival would be very slim.
Meanwhile, the 95th episode of "Dragon Ball Super" will air. It is titled, "The Wickedest! The Evilest! Frieza Runs Wild!!" The summary follows the mysterious gang waiting to launch a surprise attack on the team leader of Universe7 and Frieza after returning from hell.
The summary also reveals that Frieza would transform into his golden form and ruthlessly slaughters the enemies. On the other hand, Goku was busy protecting him.
Based on the summary, Frieza has never lost an ounce of his power despite being thrown in hell. The awaiting ambush was rather a warm up for the super villain. In this episode, we would also see the former nemeses working together. The ambush could be the result of Sidra and Quitela's meeting.
Other details
Aside from the TV guide summaries, Todd also posted on Twitter the confirmed titles for episodes 94, 95, 96, 97, and 98 of "Dragon Ball Super. The titles reveal substantial information about what fans can expect from the popular anime series.
The 96th episode will air on June titled, "The Time Has Come! To the World of Void, Where the Universes' Fates Will Be Decided!!" On July 2, the 97th episode will air, with the title, "Survive! The Curtain Finally Opens in the 'Tournament of Power'!!" While the 98th episode has no confirmed title yet but will air on July 9.
Click to read more
and watch the video
or