DBS: Titles for episodes 95 to 98 -- The Tournament of Power begins
The latest news regarding the next episodes of the famous Japanese series.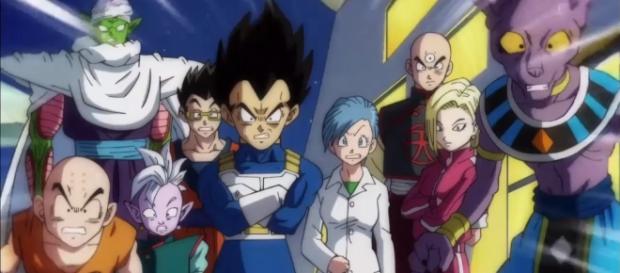 Recently, many of the most recognized sources when it comes to information about "Dragon Ball" (Gogiitaaf Af, Dragon Ball Super- Latino and Kami-Sama Explorer) revealed what may be the official titles for and descriptions of the next episodes to come. Contained within them, it is mentioned that Freiza may double-cross his current teammates (Universe 7). Also, there is data revealing the exact date in which the Tournament of Power will begin.
Updates on the next episodes
Let's begin with episode 95, which is titled: "The pact between Goku and Frieza: The trap of Universe 4." The release date is scheduled for June 17th. The plot deals with the members of Universe 9 visiting Earth to attack Goku and Frieza.
As the enemies approach, the Saiyan and the former emperor are forced to join forces to repel the attack. Meanwhile, the God of destruction Quitela schemes and puts together a secret plan while watching the fight.
Next, we have episode 96, which is titled "Another Emergency! The last warrior is HIM?" with a release date scheduled for June 24th. The plot features Frieza working together with Universe 4. Quitela makes an evil proposition to the former emperor and in the blink of an eye Universe 7 is one man short yet again. With little time left before The Tournament of Power begins, Goku must rally the other members.
Episode 97's title is "Who will survive? The Tournament of Power finally begins!" Its release date is set for July 1st, and teases the arrival of the different teams to the "Munokai" (The world of the Void) where the contest will be taking place.
At the moment of their arrival, the Grand Priest announces the terrible news that everyone who falls in the void will disappear and will never return.
Lastly, episode 98 (title not yet announced) reveals in its synopsis that the Tournament has been divided into two groups. Those universes that made a deal with Universe 11, and those that didn't. Universe 7 is targeted by many warriors. It would seem that things will descend into chaos once again for the members of Universe 7, but it will not necessarily mean an insurmountable obstacle for them since they'll work together to find a solution.
Frieza's betrayal
Frieza's treason is imminent. Will it be triggered by the deep hate he feels for Goku? We believe that this is probably the main reason why the former emperor will betray Universe 7's members, but the truth will be revealed in time.
Click to read more
and watch the video
or