Netflix springs surprise trailer for 'Castlevania' series [video]
Show revealed to be anime-styled, with Warren Ellis as writer and executive producer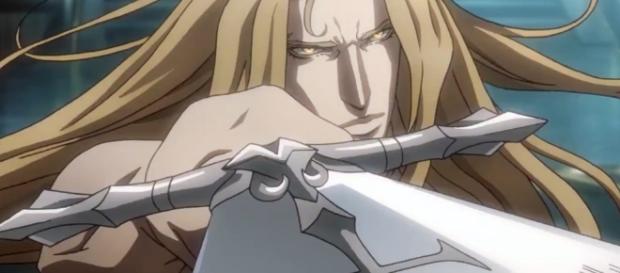 It was an announcement from out of the blue as early back as in 2015 when streaming giant Netflix first hinted at their plans to adapt a video game into a series. This was doubly so when the game was a long-running franchise, a flagship series of Japanese game developer Konami.
"Castlevania" is a series of titles across multiple gaming platforms over the decades, the premise of which revolves around slaying the iconic vampire Count Dracula in his monster-infested castle. Not much word was heard from this until recently, when Netflix unleashed its first trailer without fanfare, catching many Netflix viewers by surprise.
Heavyweight names involved
Even when the "Castlevania" series was formally announced by Netflix back in January of this year, it still seemed like such a surreal piece of news.
It was probably due to the old-school aesthetics attached to the game franchise in question.
Another announcement that the streaming service was going to adapt another game series, "The Witcher," came off as being more substantial than anything "Castlevania." Perhaps it's the cheesiness of fighting Dracula that factors into it. However, as a sign that Netflix is taking this project seriously, they've attached some major names and companies to this animated series.
That's right; the Netflix "Castlevania" series will be animated. But although American Frederator Studios is working on it, the design is blatantly in the Japanese anime style, owing to the source media being made in Japan.
Images from the trailer evoke a character design that is reminiscent of more mature anime series like "Ninja Scroll" and "Vampire Hunter D," the latter is being touted as a direct inspiration.
Writing the story is comic book legend Warren Ellis, with Adi Shankar as show-runner. The plot seems to be an adaptation of the third "Castlevania" game released in 1990 for the NES, featuring the vampire hunter Trevor Belmont and his three companions.
Trailer with nostalgia and cutting edge
The trailer itself starts with a send-up for the original game franchise with a customized "Castlevania" NES cartridge being inserted into a Nintendo Entertainment System console. On TV pops an 8-bit retro display of the Netflix interface, with a list of its popular programs including "Castlevania."
Once selected the scene switches to actual footage, with stark and intimidating imagery showing Trevor and his allies: the witch Sypha Belnades, the thief Grant Dynasty and Dracula's son Alucard encountering each other on the way to vanquish Dracula.
"Castlevania" premieres its first season on Netflix July 7, 2017. Two seasons have been planned, with the first having four 30-minute episodes in all. Season 2 won't be until 2018.
Click to read more
and watch the video
or