'My 600-lb Life' Sean Milliken loses mom Renee: Can 900-lb man find weight loss?
Dr. Now blamed enabler mom for Sean Milliken's bariatric weight loss fail: Can 'My 600-lb Life' 26 y/o heal obesity after Renee Milliken's death?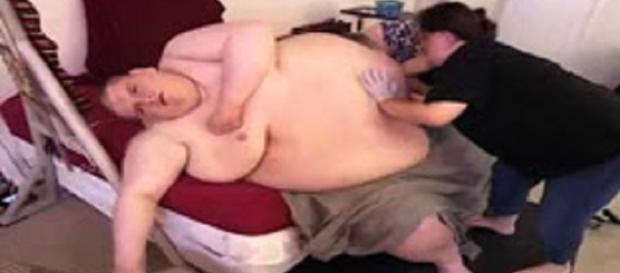 Fans of "My 600-lb Life" will remember Sean Milliken, the 900-lb 26-year-old who failed weight loss after bariatric surgery. They may also recall how Dr. Younan Nowzaradan chewed out Sean's enabler mother for essentially causing his obesity. Facebook fans reported that Renee Milliken died late in April, 2017 shortly after Sean's update aired. Amid the words of sympathy were many questions. Who will care for the bedridden Sean now? And, more importantly, can he restart weight loss without mom?
Sean Milliken loses and regains 300 pounds
Patient updates on "My 600-lb Life" can go either way.
Some, like Nikki Webster's end in rejoicing over weight loss. Some hardworking folks like Brittani Fulfer and Chad Dean even achieve the coveted skin removal plastic surgery.
But for others, like Sean, don't do so well. One of the youngest patients on the Reality TV show, the California man was also one of the heaviest at 900 pounds. He started well, losing the pre-bariatric surgery weight Dr. Nowzaradan requires. Dr. Now (the nickname patients gave him) performed the gastric bypass and Sean went on to lose 300 pounds. But mom sabotaged that weight loss and he gained it all back.
Dr. Now credits Renee Milliken with bedridden son's obesity
In an unprecedented rant, the normally calm Dr. Now went after Sean's mother for his weight gain. The "My 600-lb Life" doctor faulted the enabler for overfeeding him. Renee said they'd followed the gastric bypass surgery diet and Dr. Now pointed out that his weight gain proved this a lie. Mom insisted that Sean remain in bed, even after weight loss, citing fear over some vague illness or injury.
Dr. Now countered that she was keeping her son bedridden to satisfy some codependent need. The bariatric surgeon essentially accused her of Munchausen Syndrome by Proxy (a psychological condition in which caregivers thwart healing and even cause further harm).
After Sean Milliken's mom's death?
Facebook fans of "My 600-lb Life" have expressed sympathy for Sean and grief at mom's passing. But those same fans also expressed great annoyance at babyish, immature Sean and his martyr mother. In fact, without speaking ill of the dead, Renee was one of the top most disliked family members on the reality television show. Many suggest that now, without his primary enabler, the young man might be to save himself from morbid obesity. Nil nisi bonum dei mortui aside, Renee Milliken was basically killing Sean. Was she also killing herself with caregiving? It's sadly ironic that mother was so worried about her son's pain and suffering, yet she was the one to go first. The TLC mom was only 57 at her death but most thought she was much older. She embodied the depression, anxiety and despair caregivers so often feel. Her death serves as a notice that obesity hurts everyone but also, that weight loss helps the whole family.
Click to read more
and watch the video
or