'Dragon Ball Super':check out the incredible advances in Episode 93
We will show you the sneak peek of the episode 93 that will air in just a few days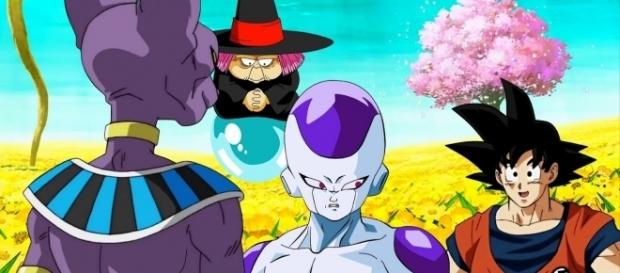 There only few days until the new episode 92 of "Dragon Ball Super," which will be the twist of one of the most epic plot twits that the new saga could offer us. This is because the Ex-Emperor of the universe, Frieza, will return to take part of the battle royal between universes realized by Zeno and Daishinkan.
Beyond episode 92, exclusive information has been revealed about episode 93. This information is extremely important. In the upcoming episode, we will be able to see the meeting between Goku and Frieza. For the first time, we will see the real Super legendary Saiyajin.
Here's a look at what's to come in episode 93
Title of the episode: "You are the tenth warrior!. Goku goes for Frieza".
Release: On June 4, 2017
Synopsis: Goku goes to Earth's hell to search for Frieza, since Majin Boo does not wake up and needs to be replaced. Goku chooses his worse enemy, but which will be Frieza reaction on having seen Goku?.
This week, the sixth universe: Caulifla notices the great potential that Kale possesses, for what it decides to give her a special training in order to wakes the Super Saiyajin. This training will reveal a power of that the whole sixth universe must be afraid.
Episode 93 will show us two epic moments — the meeting between Frieza and Goku, and the awakening of real of the Super legendary Saiyajin. The additional information mentions that the whole sixth universe might be in danger for the power that Kale possesses.
Which will be Frieza reaction?
We think that Frieza, due to his good manners, will receive well him well (Goku). Frieza has always been very ironic and will denote great surprise on having seen Goku in hell. However we think that sooner or later Frieza will lose the stirrups, since the Chanlong is in this place thanks to Goku. Frieza does not tolerate this place, being the very same h**l to the eyes of the tyrant.
Undoubtedly, this episode will be full of revelations. Looking at it, we will be able to realize to see how powerful might manage to be Kale, besides to see how Goku will manage to recruit Frieza for the tournament. If there is more news related to this, we will be communicating them immediate.
Sneak peek of 'Dragon Ball Super' episode 93
Next, we will show you the progress of the upcoming chapter of the "Dragon Ball Super." Included in the video clip is leaked information about this saga. Enjoy it and stay tuned. In the meantime, we await the arrival of the next chapters.
Click to read more
and watch the video
or