'Dragon Ball Super': Synopsis of episode 90
Gohan and Piccolo vs. Son Goku and Tienshin-Han. What will be the outcome of this battle?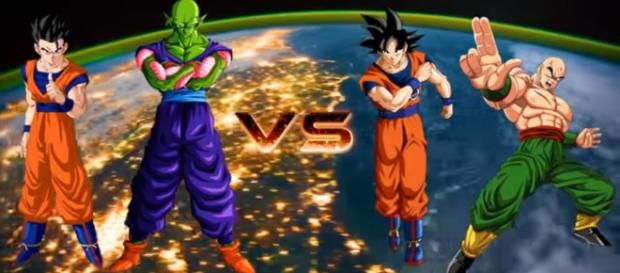 The latest issue of Shonen Jump magazine has been released, bringing with this new edition the official synopsis of episode 90 of "Dragon Ball Super," which will be released on May 14th. This is a long waited episode, since we will see the results of Gohan's training with Piccolo. Since the very beginning of "Dragon Ball Super," Gohan's participation was always an unknown, but now, it appears that he will indeed have a very prominent role.
News about episode 90
Title: "Break through the walls. Goku vs Gohan!"
Release date: May 14th
Synopsis: Overcome your father, Gohan! What lesson did Piccolo give him? Everyone is surprised by this new Gohan!
Son Gohan and Piccolo vs. Son Goku and Tienshin-Han!
During his traininig with Piccolo, Gohan realizes that the one that he must really beat is his father, Goku.
In order to achieve this, he teams up with Piccolo to fight against his father and Tienshin-Han. After completing the training, Gohan obtains a power he never had before, but Goku seems to overcome each obstacle…
Thanks to Piccolo, Gohan has improved both physically and mentally, but watch out for Tienshin-Han since he fights with unique techniques! Goku is overwhelmed by his son's improvement and couldn't be happier that his son has become a powerful warrior once again. After the Tag Team Match, he challenges his son to single combat.
Will Gohan grow stronger than his father one more time? There are some that suggest that Son Gohan will achieve a new stage above the Super Saiyan Blue, although others say that he will only reach this stage -- not surpass it. It is also mentioned that Tienshin-Han is a warrior to watch out for. He has not stopped training, and has likely developed some new techniques. Either way, this is something that viewers will definitely want to keep an eye on as the current saga continues to unfold each week.
About the next episodes:
Episode 91: "The strongest warriors unite."
Release date: May 21st.
Episode 92: "Incomplete Members?"
Release date: May 28th
Thanks for reading this note, and stay tuned for more information as it becomes available.
Click to read more
You will watch a video to read the news
or