Dragon Ball Super - Manga 24: Goku has finally surpassed Bills
Next, we share with you new, revealing information about Goku and the 'Dragon Ball' manga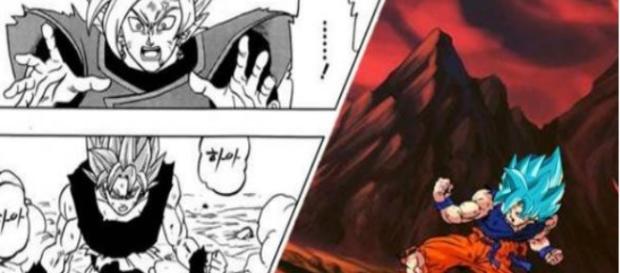 New interesting facts keep coming to light about what is currently happening in the "Dragon Ball Super" manga. Relevant details about the major events happening in Chapter 24 were revealed a couple of hours ago, where the names of Trunks of the future, as well as the villain of the last "Dragon Ball Super" series (Zamasu), took certain prominence. However, what happened today has no comparison. Just a few moments ago, a Japanese magazine associated with Toei Animation has revealed a news that will surprise the entire Dragon Ball community.
According to this source, in the next Chapter of the manga, Goku, (the powerful Z warrior) will overcome nothing more and nothing less than Bills. What would be a fact that will mark a story without precedent in the Japanese series and the anime world.
The plot
According to new revelations of; Chapter number 24 of the manga, Son Gokú could have surpassed its limits with its new transformation. According to new information filtered by the Super Saga Guide, the new Z Warrior transformation has reached the highest level of power ever seen in the animated Japanese series, far exceeding the powerful and fearsome character known in the series as Bills.
Goku and Vegeta are strongly attacked by Zamasu
In one of the main images revealed, indeed, the first thing we see is Goku and Vegeta lying down on the ground. The attack that Zamasu has sent them is similar to the one of the (Janemba) in one of the films of "Dragon Ball Z" reason why now, that skill would have become canonical.
Trunks does his best to heal them with his new ability. We also note that the battle is taken to another level. Vegeta rises and returns to the battlefield without being healed. The prince discovers something surprising about Kakarotto. Meanwhile, Zamasu and Goku continue in an incredible battle, in which the villain manages to distort the space and time without any difficulty.
The new power of Saiyan
Gohan's father shows his definitive level of the (Super Saiyan Blue God). He has perfected it and now has no wear and tear when using it, so he can fight fully with this ability. As an extra curiosity, he is fighting alongside Zamasu's merger. If we remember, Vegetto Blue God is able to destroy the mentioned antagonist without any problem, in fact, even plays with him.
But in this case, Goku with his new form can fight on par against the current fused villain.
Next, we will show you the progress of the upcoming chapter of the series, with some leaked information about this saga. Enjoy it, and stay tuned. In the meantime, we await the arrival of the next chapter.
Click to read more
and watch the video
or