'Dragon Ball Super': Chapter 92 official summary
New, revealing information about the next episode in the 'Dragon Ball Super' saga.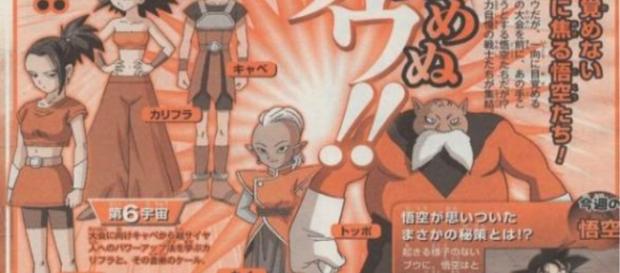 New information has been revealed related to the upcoming "Survival Tournament" and the new saga of "Dragon Ball Super." Just a few moments ago, all of the warriors of all of the universes that will take part in the Tournament of Power were revealed. There are only a couple of days left until the official premiere of Chapter 91 of "Dragon Ball Super," which is one of the most anticipated episodes of this current saga. According to filtered information, in episode 92 we will finally see the integration of all of the universes. However, to increase the tension and anticipation, the Weekly Shonen Jump magazine revealed the official summary of the next chapter, which will be detailed below.
The plot
Episode number 92 of "Dragon Ball Super" will premiere on Saturday, May 27th (May 28th in Japan), titled "Universal emergency! We are missing a member to complete the team!" In this episode, we will witness the great terror that has come to face the Z-warriors.
With each official episode that's released, it brings viewers closer to the eventual arrival of the Tournament of Power, and it's something that fans and viewers are looking forward to.
The official summary of episode 92
Unfortunately, majin buu will not wake up, while the mighty warriors of the rest of the universe will finally come together. Son Goku and the others are worried about the absence of one of the best and most dexterous characters on the team. There is nothing more to do. Buu falls asleep and there is no way to wake him up. Son Goku and the rest of the team from Universe 7 make their last attempt to wake him, but with no success.
Events in the rest of the universe
In Universe 6, Kabe has become an extraordinary teacher and has taught Caulifla and Kale the key to becoming a Super Saiyan. In Universe 11, Toppo has finally completed the list of recruits that will officially represent that universe in the Tournament of Power.
In this same context, Goku takes advantage of the time left before the tournament to reveal a plan that was heavily guarded. After confirming that Majin Buu will not wake up for 7 more weeks, Goku reveals that he will look for an immediate replacement -- one of the most fearsome villains in the entire series.
Next, we will show you the progress of the upcoming chapter of the "Dragon Ball Super," with some leaked information about this saga. Enjoy it, and stay tuned. In the meantime, we await the arrival of the next chapter.
Click to read more
and watch the video
or