Dragon Ball, One Piece, Gintama and JoJo's at Universal Studios
Rate this title
Universal Studios Japan has prepared a new event in collaboration with Shueisha, which will feature Dragon Ball, One Piece, Gintama and JoJo's.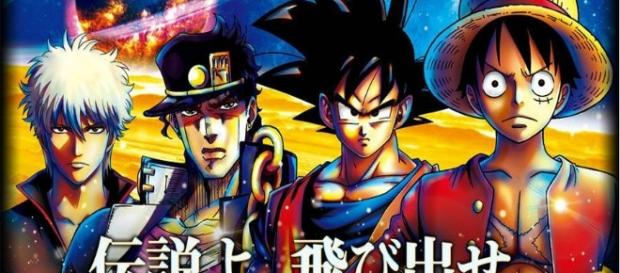 Universal Studios Japan has updated its website to share all the details about the attractions of the event "Universal Jump Summer". This year the series that will be present in that place are the top series (Dragon Ball, One Piece, Gintama and JoJo's Bizarre Adventure). This special event will be active from June 30 to October 1. Starting with One Piece, it is ten years of the first show based on the series by author Eiichiro Oda. A spectacle that has been seen by more than a million people and which narrates the events of the arc of Marineford, which investigates the bond between Ace and Luffy. The show will have an exclusive story this year.
It will also open an American cuisine restaurant that will be run by Sanji, in addition to the water attraction One Piece Water Battle.
New and exclusive merchandising
Following with "Dragon Ball", the park prepares a 4D attraction, in which we will fight against Broly in God mode while we buy completely new and exclusive merchandising, like a radar-plush. JoJo's Bizarre Adventure JoJo's Bizarre Adventure will feature a 4D attraction inspired by JoJo's Bizarre Adventure: "Stardust Crusaders" in which you will see a CG movie made for that occasion. Of course, we will also find special merchandising of this series. It is worth to note, that this will be the first time that Gintama has an interactive attraction, in which those present will be able to talk with Gintoki and his friends.
Those hungry will be able to sink their teeth into a tasty Elizabeth cake.
Dragon Quest Rivals
In addition, if you are fans of the "Dragon Quest" series pay attention because Square Enix has announced the release of "Dragon Quest Rivals" for mobile devices. It is a game of cards, in which you will have to dispute battles in turns with decks formed by letters that will represent the main characters of the franchise "Dragon Quest", as many heroes and villains as monsters. In addition, "Dragon Quest Rivals" will feature an online mode, which will be able to all users of the game for Android and iOS with their own deck of cards. On the other hand, "
On the other hand, "Dragon Quest Rivals" will have a closed beta for 2,000 users on iOS and 8,000 for Android that will start on June 9 and end on the 19th of the same month. Of course, for now, "Dragon Quest Rivals" has only been confirmed for Japan, so we will have to keep waiting to see if Square Enix announces the launch of this title in our territory.
This is all the information known so far. Stay tuned for more updates as they become available.
Source: http://www.animenewsnetwork.com/interest/2017-04-11/universal-studios-japan-hosts-dragon-ball-gintama-one-piece-jojo-this-summer/.114667
Click to read more
and watch the video
or