'Dragon Ball Super': Impressive information from universe 11
New information has been revealed about this enigmatic universe that promises to be one of our favorite universe's greatest rivals.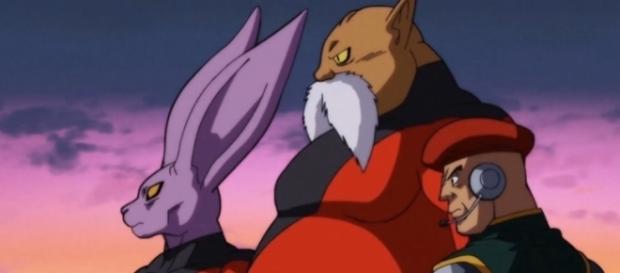 Mainly, we know that this universe has the best fighters in the entire universe, since in them is 'The Troop of Pride'. The destroying god of this universe is called Vermouth, his assistant Marcarita and the Supreme God calls himself Kai.
Universe 11 is not to be messed with
The Kaioshin of this universe did not like the idea of the Saiyans, since it put at risk all the universes. So the universe 11 will take measures so that the tournament of power does not take place, and then they bring together most of the universes except 7 and decide to settle things. However, if they contradict the king altogether, could be even more at risk of disappearing, so Kai finds no other way than to make him pay Goku for this and sends his men to finish this once and for all.
If we recall in this chapter, the God Of Destruction "Vermouth" also spoke with the other destroying gods except the god of destruction from universe 7, on the other hand Champa, calls to Kyabe, since to fight against Saiyans you need other Saiyans, Why would he do this? Is it for the tournament of power or to annihilate Goku? We want to think that Champa made this call to face in the tournament of power and not to attack Son Goku, remember that saiyans are a powerful race.
This brings us closer to deducing that the Broly woman could belong to the universe 6, the sister of Kyabe, a warrior with extreme powers, of course, we do not believe that it surpasses the transformation of Goku, but perhaps if it comes to give battle to some of the several universes presented.
'Dyspo' the warrior who belongs to the troops of Pride, a character quite similar to Beerus, many rumors believe that it is his brother, but this cannot be, they might belong to the same race, but that it is his brother I doubt it very much. On the other hand, the head of that Troop is Jiren, the guy with whom Son Goku is fighting in the new opening, a subject who is described as the best in the universe 11, with extraordinary powers, Can Goku defeat him?
What is coming next?
Finally we remind you that the next chapter of Dragon Ball Super premieres on April 16 in Japan on Fuji Television Network and it will be about what has happened with the android 17, and Goku will challenge him to a fight to measure his level of power to see if he is prepared for the tournament of power.
Well, that's all for now, don't forget to leave your comment about this article, We will continue informing you about any news related to the famous serie "Dragon Ball Super.", see you in a next article.
Click to read more
and watch the video
or