'Dragon Ball Super': creator's concept of the female Broly Super Saiyan revealed
Jump Magazine recently released the creator sheet showing the female super Saiyan as conceptualized by Akira Toriyama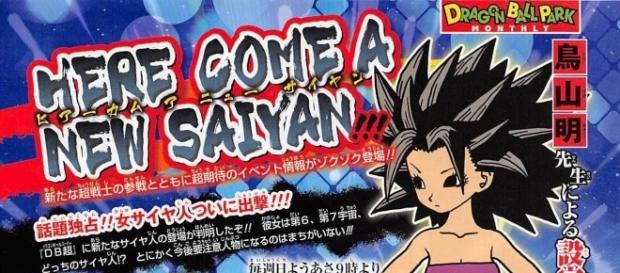 For several months now, the topic about the Female Super Saiyan has never died down. In fact, the speculation became more intense as the tournament drew near. The appearance of a naïve looking female who from base form transformed into Saiyan god-like level is something that no "Dragon Ball Super" fan has ever thought of. There were theories about her character, and from which universe she belongs.
Fans never stopped speculating as officially nothing was heard about the character from the team or the developer. However, things are given light recently when a published character sheet by the creator of the phenomenal anime series himself, was revealed.
Concept of Toriyama
Beyond the buzz, finally, the creator of "Dragon Ball Super" has released his concept of the full-blooded female super Saiyan.
Published in V-Jump Magazine, the character appeared to be a slender young woman wearing matching purple-ish cropped top and baggy purple-ish pants. Her look does not seem to look like the first young lady previously seen in one of the anime series' preview. That one has different eyes and hair color. It is also very noticeable that the young woman in the sheet has no tail.
V Jump Magazine
The creator sheet confirmed that there is indeed a new Super Saiyan in the series. In fact, it is teasing fans on whether she is from universe 6 or 7. The magazine also hinted that this time the character needs the full attention of the fans. As to what do they mean by this, it seems everyone else is clueless.
Apart from those, V-Jump also teased that the character is supposed to be a Saiyan and ended the statement with the usual cliffhanger term, however. Furthermore, the magazine revealed that if one looks into the backside of the character sheet, it is obvious that she has no tail.
Theories
Fans of the anime series never ran out of theories and predictions. Everyone has a piece to share especially with this most recent development which could make more twists on the show. One theory about the origin of the female fighter is that she came from universe 6. One fan claimed that she resembles Cabba in physical features. Even her eyes apparently look like the fighter of Universe 6.
A contrasting theory claimed that the girl must be the Yurin whom fans will see in the upcoming episode where Goku visits Tien in his Dojo.
Allegedly, the name of the girl at first according to the fan theory is Calli, which stands for Cauliflower. It is worth noting that Saiyan names are derived from vegetables Kakarot, Cabba, and Vegeta.
It seems that there are much more surprises and interesting twists ahead. As for the fans, soon, the female Broly look-alike will be introduced. We will keep you posted for more updates as soon as information is available.
Click to read more
and watch the video
or