'Attack on Titan' Season 2 streaming, honest trailer, Blu-Ray disc, DVD & more
Rate this title
Anime fans are now excited for the coming of "Attack on Titan" Season 2 as details about the show are now emerging.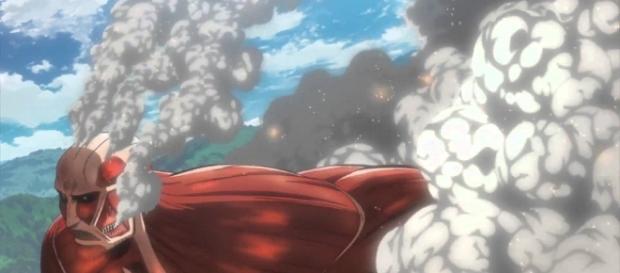 The much-awaited "Attack On Titan" Season 2 is now coming as its English subtitled trailer is finally revealed for the American viewers. Fans get to see the Beast Titan and the epic battle between the giant humanoids and the manga series' titular characters.
The Southeast Asian channel Aniplus-Asia first streamed the teaser video on Saturday that includes the same footages that have been revealed in December 2016. Aside from the promotional clip, it also gave a glimpse of the interviews of the show's directors Tetsuro Araki and Masashi Koizuka with English subtitles.
The manga series' release date on 21 networks
The second installment of the animated series can be watched on 21 networks that include Tokyo MX, MBS and much more starting April 1.
Aniplus-Asia, on the other hand, announced that it licensed the anime series in December and its streaming rights will begin on April 2.
ScreenJunkies' Honest Trailer
Moreover, ScreenJunkies, the home of Honest Trailers, also made upright teasers solely for the anime series. And as the second chapter of the manga series is about to come, the online movie magazine tackled the upcoming show.
"Enter a dystopia where the world is ravaged by huge d***less nudist as soldiers fight to protect humanity by sacrificing life and limb - literally," the first words in the trailer can be heard. The site went on to describe the Japanese manga series as the most realistic depiction of "body flesh monsters."
However, it has a lot to show than just violence. In fact, it said that the anime also has light moments by adding a touch of drama and not just pure gory scenes.
Blu-Ray Disc and DVD versions
Meanwhile, Amazon now has the first listing of "Attack on Titan" Season 2's first printing of the Blu-ray Disc and DVD with "VR movie" complete with specially designed VR goggles. The film bears the title "Shingeki no Kyojin-ten 360° Taikan Theater 'Hoeru'" or simply translated as "Attack on Titan Exhibition 360-degree: Experience Theater 'Roar.'"
The second Blu-ray Disc and DVD, on the other hand, also includes a new VR anime. The online retailer listed the first volume to be released on June 21 while the second one will be out on Aug. 18. Both releases will also have a free full-color booklet and a VIP access to the upcoming event at Tokyo Dome on Oct. 29.
Click to read more
and watch the video
or