'Teen Mom 2': Kailyn Lowry not happy about Javi Marroquin's new girlfriend?
Kail speaks out after Javi reveals his new girlfriend via social media.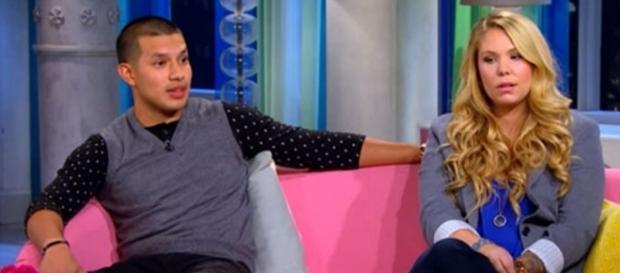 "Teen Mom 2" couple Kailyn Lowry and Javi Marroquin are currently in the middle of a messy divorce. The couple, who announced their divorce on the season finale of the reality show, have been battling back and forth about what really caused their marriage to break up. Now, Javi reportedly has a new woman in his life, and Kailyn is allegedly unhappy about Marroquin's new girlfriend.
Javi Marroquin has a new girfriend
According to Radar Online, Javi Marroquin went public with his new girlfriend via social media, when he posted a photo of them together in bed.
Javi also posted photos of he and his new girl, Cassie Bucka, partying together over the weekend. Of course, it seems that Kailyn Lowry wasn't thrilled to see that Javi has moved on. The "Teen Mom 2" star took to her Twitter account to mock Javi's posts, saying, "Remember guys, you have to blast your brand new relationshipa ll over social media or it ain't real."
Is Kailyn Lowry jealous that Javi's moving on?
While many fans believe that Kailyn Lowry is jealous, sources are claiming that the "Teen Mom 2" star doesn't care about Javi Marroquin's new relationship at all, and that she doesn't have any regrets about ending her four year marriage to the father of her second son.
An insider says that Kail couldn't care less about Javi's new girlfriend, and that she was only making fun of him for blasting the romance all over social media when it's so new. However, when Kailyn's former friend, Christina "Peach" Pietrobon called Lowry "bitter," Kail spoke out and accused Javi of having an affair during their marriage. Insiders reveal that Kailyn and Javi had already split while he was deployed so she decided to start dating again, but then took criticism for it. However, Javi allegedly wanted to make it seem that Kail was cheating, even though he was reportedly dating while he was deployed.
Javi showing off his new girlfriend comes after his divorce with Kailyn was finalized. Marroquin revealed that he and Lowry are sharing custody of their son Lincoln, and that they worked out the child support issue easily.
Click to read more
You will watch a video to read the news
or