Piccolo Daimaku and Ten Shin Han are training for the next tournament.
Goku's order to Ten Shin Han and Piccolo is to train for the next tournament.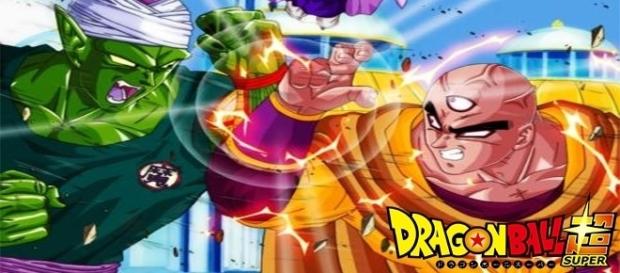 The new official synopsis of Shonen Jump magazine that will be published next week has revealed that the Mafuba technique will reappear in the series. Apparently and according to another Japanese magazine, NewType, Goku will travel next to Vegeta, to the past again to look for the way to beat Zamasu and Black. According to the magazine Piccolo gives them the idea to realize the Mafuba. Now, according to the official synopsis of Shonen Jump, Goku goes to see Master Roshi to teach him the Mafuba, but Ten Shin Han and Piccolo himself seems to know the technique as well.
Is this really true? If so, why did Goku not ask for help from the two who are also stronger than Roshi?
What's going to happen first?
First we will discuss Ten Shin Han. In the manga Ten Shin Han learned how to make the Mafuba but from practicing it he broke the electric pot so that he could seal Piccoro Daimaku there. In the manga Ten Shin Han knows how to do the technique but, it has also never been proven to work against a human being. In the anime, on the other hand, Ten Shin Han does the technique against Piccoro Daimaku but fails, although he remains alive (we already explained that this is an incoherence of the anime since it is known to be a deadly technique).
On the other hand, Piccoro, in facing Kamisama also suffered the Mafuba in his own flesh, but he had developed a counter-technique called "Cotramafuba" which consists of returning the Mafuba and sealing the other person without dying. Apparently this technique is independent of the Mafuba and Piccoro can only do this technique when another person makes the Mafuba against him. However there is someone who devised the Mafuba and thought not to die, it is Kamisama himself. Before doing so, he had said that he intended to do something without the need to commit suicide and that he had learned it from humans, it was the Mafuba (Manga, Chapter 16, 181).
Kamisama
Did Kamisama know how to do the technique without dying? Did he think of sacrificing the human and separating himself from that body when he was about to die?
Note: this information is not 100% confirmed.
Click to read more
and watch the video
or