'Dragon Ball Super' - Manga n°18 summary, part III
We tell you here all the details about tome 18 of the manga 'Dragon Ball Super'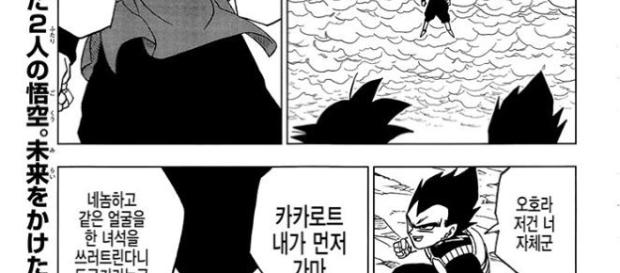 As Gowasu receives Whis and Beerus, he says that it has quite some has passed time since they last met and that he has grown old and thinks about retiring. Then the God of destruction arrives and Whis ask him about Zamsu's whereabouts, and Gowasu answers that he's been away all the day. To this Beerus says that they will wait for the apprentice until he arrives. In the meantime, on Earth, Vegeta asks Goku to confirm if he is bringing Senzu beans with him. After that they travel to the future and on the arrival Goku gets travel sickness.
As this happens, Black feels the Ki of both Saiyans from his hideout. In the same way, Goku feels Black's ki and tells Trunks to hide the time machine. After that, Vegeta's son finds Mai and gives her a Senzu bean previously chewed by his own mouth.
This sequence happens in the same way as it did in the anime, with the exception that Goku gets surprised by the method Trunks used. To this Vegeta asks Goku why the method surprises him since he is married, and Goku replies saying "what has that anything to do with this?" Finally Vegeta ends the discussion with a "whatever." As Mai awakens, she gets surprised and scared to see Goku's face since she believes he is Black, but Trunks calms her down saying that he is the true Goku.
Let's analyze
As Vegeta looks down on Mai, he sees something familiar in her and quickly concludes that she is the same girl that wonders around his house in the present time. Trunks explains to her that Vegeta is his father and that he brought both Saiyans from the past to aid the resistance in the battle against Black. Then Vegeta tells Trunks to hide the time machine and look after Mai, and that he and Kakarot will take care of the enemies. Trunks wants to aid them in the battle, but Vegeta replies that should anything go wrong, he must return to the present time.
Then Mai asks Trunks if Goku and Vegeta will be capable of taking down Black, and he answers that not only they can defeat Black, but also that they have some sort of power that can make people feel like they can protect Earth (the very same phrase is used by Bulma making reference to Goku, in the Trunks's special edition)
Finally
Black finally appears and Vegeta requests to be the first to fight against him, and that it would be exciting to fight against someone that is just like Goku. At the end of the page, in a manner of closure, lies the phrase "the battle for the future begins."
Click to read more
and watch the video
or