'Dragon Ball Super': Manga 18 summary (part II)
We tell you all the details about tome 18 of the manga, and what readers can expect.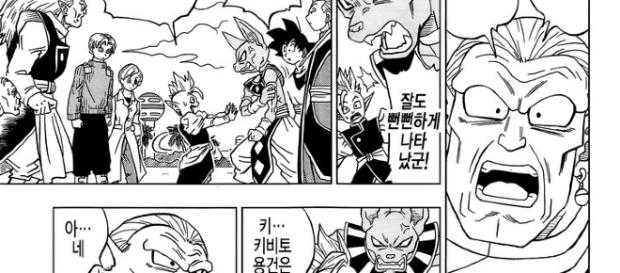 Continuing with the manga's translations, we can see that there is some sort of confusión since Trunks reveals that the Goku of his time is dead and Black is in the future. That's why Black must be someone else, different from the Zamasu of that time. According to Beerus, only the Supreme Kai can use the time travelling ring to travel into parallel worlds. Then Trunks tells them that Black has a pothala earring in one of his ears, which makes Whis ask him if that pothala earring is of that color (we believe he is making reference to the green one).
Finally, they conclude that Gowasu's life is in danger. Bulma says that it is probably that this "Zamasu" killed his master, becoming the new Supreme Kai, and then he stole his pothala earrings and used the time travelling ring to go to Trunks' future. Then, Whis adds that he probably did that since in Trunks' future there are fewer warriors alive, and that it would be easier to dominate the world. Beerus then blames himself for Goku's death.
The threat of Zamasu
After that Whis says that the present world is still in danger, since Zamasu can hide and wait for the opportunity to kill the Gods, and Beerus concludes that they will travel to Universe 10 to investigate, and that it would be better to kill Zamasu now while they still have the chance.
Goku wants to go with them but Whis replies that it would be something dangerous if Zamasu meets him now, and Beerus adds that it is a matter of the Gods, and he must not intervene. Then, Beerus tells the Supreme Kai that he has a special task for him, but he does not reveal it. It seems that the only ones travelling to Universe 10 will be the God of destruction and Whis. As all of this happens while Vegeta is enraged, since Zamasu saw the Tournament of Universes 6 and 7, and that he only wanted a strong body.
Why did he choose Kakarot's body?
Bulma complains to Vegeta about constantly competing with Goku, and adds that ultimately it was Monaka who won the tournament. Pilaf shows up and communicates that the time machine's fuel is full and ready to travel. Then, Trunks, Goku and Vegeta leave, but Bulma makes her son promise to return.
Click to read more
You will watch a video to read the news
or