'Dragon Ball Super': episode 73 synposis
See the summary and synopsis or the upcoming chapter 73 of 'Dragon Ball Super.'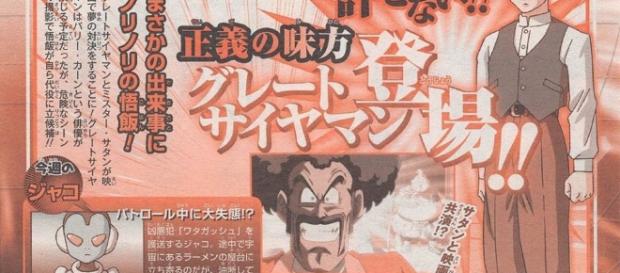 Weekly Shonen Jump magazine has revealed the title and synopsis of the next chapter of Dragon Ball Super. We will show you the official translations. The episode is titled: "Gohan's disaster! An incredible movie for the Great Saiyaman?"
Synopsis
An unexpected turn of events improved Gohan's day. A movie about a dream showdown is taking place, the Great Saiyaman vs. Mister Satan! An actor named Barry Kahn should have played the Gran Saiyaman, but while this actor filmed a very dangerous scene Gohan appears and offers himself as the replacement stuntman.
Gohan making his shameful poses as he announces, "I will not tolerate evil! He is the champion of justice, he is the Great Saiyan!"
On the other hand Jaco makes his appearance again on planet earth, which gives us hints about character. Does Jaco make a big mistake while patrolling? Jaco catches the evil criminal Watagash. On the way he stops at a post in space, while that happens! The criminal walks away as Jaco distracts himself!
More details below
A very interesting fact is that on January 1, 2017 there will be no episode, due to a special programming on the Fuji TV channel.
Meanwhile, we are awaiting the arrival of the new story arc, which will be released in the month of February within the first week. This past Saturday we left behind the mini story of two chapters, where we were told about the murder commissioned by Son Goku at the hands of Hit the hitman. Giving up this brief saga between sagas we move to another: The very shoot of the film of the Great Saiyaman, which will have to face Mister Satan. Apparently Son Gohan will have the role of filming the dangerous scenes with the irony that this fact represents.
Remember that this is something very similar to an episode of Dragon Ball Z, the scenes are very identical, and do you remember when Gohan intruded on the filming of his own movie to save that woman thinking it was real? In that chapter Gohan quickly became the actor who would act as the Great Saiyaman, will there be something similar in the next chapter of Dragon Ball Super?