'DBS': Goku's killer appears. An unpublished image of chapter 71 is revealed
It was recently leaked -- an incredible image of episode 71, which reveals the Saiyan assassin.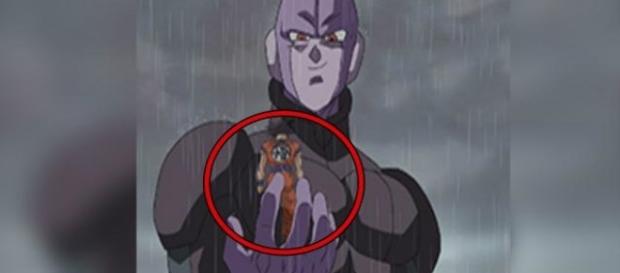 Amazing! A few moments ago, it was revealed -- an unpublished image of the episode 71, in which we can begin to speculate that the assassin Hit has embarked on his search for Goku -- his next target. This episode will also be the basis for an entirely new saga, the follow-up to the saga of Future Trunks. Next, we share with you all the latest information related to this character. We will review the title and release date of this chapter as well.
The plot
The episode 71 will be released on Saturday, December 17th, and it will have the following title: "Goku dies! The murder order to be executed." That is the release date and title of this episode, and along with it, we have this amazing image that was leaked from this coming chapter, in which we see Hit under an intense rain and in his hand, we can see a little image of Goku.
As you can see in the gallery, although the quality of the image is not what is desired, we see that Goku's body is transparent. We estimate that the Goku that Hit is holding is simply a hologram, or, perhaps, a memory.
Additional information
On the other hand, it was leaked -- a small summary that advances the story of the upcoming episode. According to the information revealed, Hit does not go to earth to kill Goku on his own, but has been hired by a still unknown entity to carry out this mission.
However, the assassin has no desire to eliminate Goku, but still must comply with the order that was imposed. In addition to this, Goku will not lose his life, the Saiyan will manage to dodge the attacks of the assassin with ease. Certainly, all this information is very telling, and with it, we can begin to paint a picture of the likely outcome of events that are to take place in the upcoming episode. Clearly, the information leaves holes and many questions that in the future we will try to answer, but, for now, this leaves us all with something to ponder.
Next, we will show you the progress of the upcoming chapter of the series, with some leaked information about this saga. Enjoy it, and stay tuned. And, in the meantime, we await the arrival of the next chapter.