Carrie Fisher will have two posthumous appearances on upcoming 'Family Guy' episodes
Fisher played the recurring role of Angela, who served as the boss of Peter Griffin.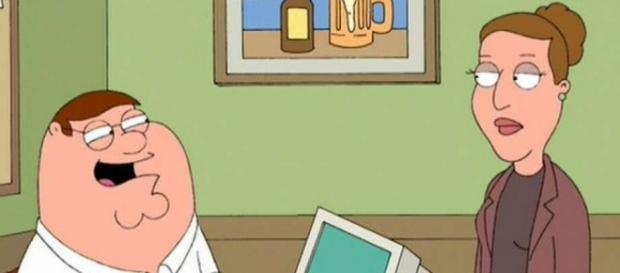 Late actress Carrie Fisher will appear posthumously in two more upcoming episodes of the Fox animated sitcom, "Family Guy," in which she played the recurring character of Angela, Peter Griffin's boss.
Who was Angela on the show?
Fisher had first appeared in the series in the 2005 episode "Jungle Love," where her character was introduced as Peter Griffin's boss at his new job at a brewery. Appearing in around twenty episodes, the character was normally shown as being rather stern towards Peter, but often showed a sympathetic side.
The show occasionally parodied her role in the "Star Wars" franchise with the "Blue Harvest" triology of episodes, that retold the plot of various "Star Wars" films, although Fisher's character Angela played the character of Mon Mothma, as Peter's wife, Lois, already played Fisher's character of Princess Leia in the parody.
The character of Angela had also not been one without controversy. In one of her larger appearances in the series, one episode, "Peter-assment," has her sexually harass Peter after developing a crush on him.
After turning down her advances, Angela attempts suicide, but is rescued by Peter, and she explains she is depressed with her lack of a love life. Feeling sympathetic, Peter and Angela have simulated sex with each other. Although some critics praised the episode for showing sexual harassment happening with either gender, others thought it was wrong to try to make a sexual abuser sympathetic, and thought Angela should have been punished at the end of the episode.
What do we know about the remaining episodes?
It is currently unknown when the episodes will air, but they are expected to air sometime in the 2017 season.
Aside from the knowledge that Fisher's voice will be in said episodes, little else is known about either their upcoming plots or the episode titles. Series show-runner and creator Seth MacFarlane offered his condolences on social media over the late actress, writing that she was notably "smart, funny, talented, surprising, and always a hell of a fun time" and that the show would miss her "immensely."
Fisher's last role in the series prior to her death was in the late December 2016 episode, "Carter and Tricia." A video of her scene within the episode can be seen below: