Azealia Banks does more than confess to practicing witchcraft
The Harlem rapper conjures up more controversy after release of disturbing video.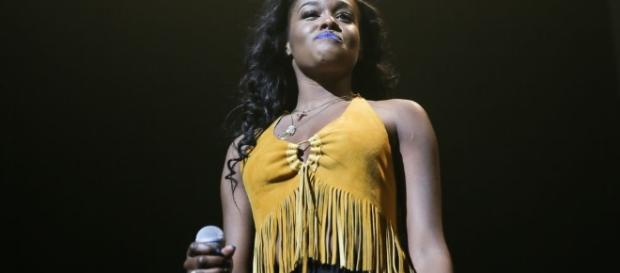 The "212" singer Azealia Banks caused quite a stir Friday after posting a series of eye-popping videos on Instagram. Panning a camera around what appears to be a closet inside her apartment, Banks gave a narrative about her three-year practice of brujeria, which is Spanish for witchcraft. The 25-year-old native New Yorker described the blood-stained walls in blunt fashion. The floors were layered with a black looking substance, along with feathers scattered about and at least two dead chickens can be seen. Banks explained the scene as a room where animal sacrifices were made but she was about to embark on some "housecleaning."
Banks, with a sandblaster, a pair of goggles, and a bandana wrapped around her head, stated that it (clean up) was about to go down.
She added that real witches do real things. PETA Senior Vice President Lisa Lange released a statement pointing out that people would be rightly horrified in knowing Azealia Banks slaughtered chickens in her home. Lange opined Banks was obviously out of touch with the average sentiment which was evident by her bragging on social media. The PETA executive concluded with a hope that Banks' clean-up effort was a sign that the singer was attempting to clean up her act and stop the cruel treatment of frightened animals. Lange did note, however, that chickens are not covered by the Humane Slaughter Act.
Strange brew and casting spells
Although Azealia Banks has spoken about her witchcraft practice before, this is the first time she has given any visual insight. In a March interview, Banks said she was a witch and got her inspiration from her mother who practiced white table magic.
She mentioned her favorite spell was the egg spell, a ritual to rid one's self of negativity.
No stranger to backlash and controversy
Naturally, this latest antic has placed Banks in the cross-hairs of #Twitter's mixed bag of comments to include mockery and outrage. Singer Sia has come out to express her disgust, to which Banks replied on Twitter with a warning for Sia to not disrespect her religion or else. Banks made headlines recently due to claims that actor Russell Crowe assaulted her at a dinner party in October. However, several witnesses came forward to say it was Banks who did the assaulting. She has also found herself at odds with Sarah Palin and Zayn Malik, accusing Malik of borrowing ideas from her #Music videos and calling him a curry scented b**** led to the singer's Twitter account being suspended. Attacking Sarah Palin resulted in the former Governor of Alaska's threats of filing a lawsuit against Banks. #News