Actor who played 'Days of Our Lives' villain Stefano DiMera has died
Joseph Mascolo was known for iconic role on the NBC daytime soap opera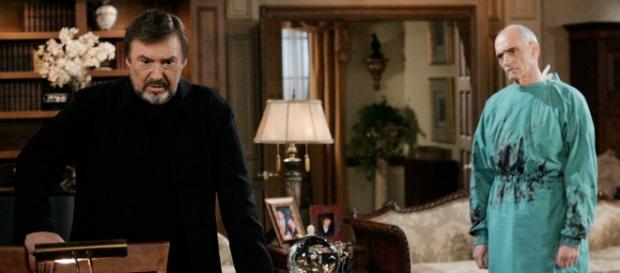 Known by millions of fans for his portrayal of business tycoon and crime lord Stefano DiMera on NBC's soap opera "Days Of Our Lives," Joseph Mascolo's presence on the screen was larger than life. The actor died Thursday after losing his battle with Alzheimer's disease. He was 87. Joseph Mascolo joined the cast of "Days" in 1982 and owned the character of Stefano DiMera, making him one of the most hated yet loved men in soap opera history. "Days of our Lives" executive producer Ken Corday released a statement which read, in part: "It is with great sorrow that we share the News of the passing of our dear friend and beloved member of the "Days of Our Lives" family, Joseph Mascolo."
A native of West Hartford, Connecticut, Mascolo was a trained classical musician before turning to acting.
His acting credits include appearances in the film "Jaws 2," "Heat," "Sharky's Machine" and "Shaft's Big Score." Mascolo also scored acting gigs on television shows such as "All in the Family," "The Incredible Hulk," "The Rockford Files" and "Lou Grant."
A good guy born to play a bad character
On "Days " Mascolo played the role of wealthy European businessman Stefano DiMera from 1982 to 1985. Aside from being ruthless and a constant thorn in the side of Salem's citizens, the DiMera character was known for faking his death at least a dozen times, Ironically, Mascolo returned to "Days" earlier this year for the last time, with his character dying off. Always a fan favorite, Soap Opera Digest even named Mascolo the all-time best villain.
A true soap opera legend
Over the years, Joseph Mascolo would leave and return to revamp his role of Stefano DiMera several times. He even joined CBS' "The Bold and the Beautiful" cast from 2001 to 2006 and appeared on another NBC soap, "Santa Barbara." Mascolo also played the part of a villain on the soap "General Hospital." Joseph Mascolo is survived by his wife Patricia, one son, a step-daughter, one sister, five grandchildren and three great-grandchildren. He will be missed.
Click to read more
You will watch a video to read the news
or