'Z Nation' season 3 - Doc and Addy find Baby Lucy with her razor-sharp smile - she's grown
Warren is now leading the Red Hands and Baby Lucy has really sprouted up as 'Z Nation' continues on Friday nights.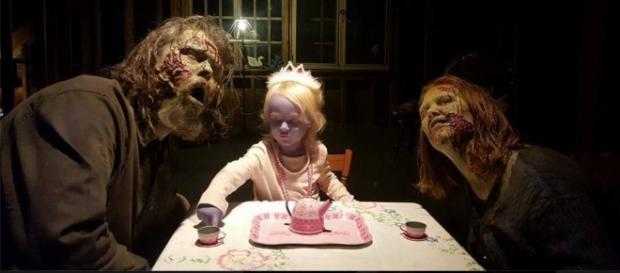 "Z Nation" moved right along this week and now that Warren has infiltrated the Red Hands by killing their leader, capturing Murphy should be a breeze. That's only because the crazy Red Hands are now looking at Warren like their queen. It just so happens that the leader of the Red Hands was a man she once loved! Oh the twists and turns of "Z Nation" make for viewing on the edge of your seat! Fans knew Warren was tough, but she took it to a new level this week for sure!
Baby Lucy has grown!
Meanwhile Addy and Doc are on a trek to find baby Lucy, who was placed with a family in the woods by Daddy Murphy a while back.
They need to get to her before Murphy does, as he is creating a new world order out of Blends. Some of the highlights and low lights of "Z Nation" Friday night were crazy, like how Warren's chance went from bad to good, with just the closing of a door.
Outhouse blues for Warren
One incident in particular from Friday's episode of "Z Nation" is when Warren was surrounded by zombies while in an outhouse. This is a scene that caught the viewers by surprise, suggests the AV Club. The only escape looked to be down the potty hole, which would entail crawling through human excrement.
When the outhouse door is open, Warren is gone, but there's a hole punched through the back of the outhouse.
This could mean one thing only...the next time the viewers saw Warren she wouldn't be covered in pee and fecal matter! She kicked her way out of the home-made porta potty!
Old love with new personality
"Z Nation" brought back a previous member of this group of survivors. Vasquez appears as Escorpion, which was a shocker. Apparently the real Escorpion's brutal killing of Vasquez's wife and child had put him so far over the edge that he took on Escorpion's personality. The real Escorpion, who is Hector, tells Vasquez the story of how he killed his wife as she begged to live.
This brought back memories for the impostor.
A fight between the real and assumed Escorpion ensues and ends up with Hector on the ground dying as Warren grabs a sword and kills Vasquez. Just before Vasquez takes his last breath he tells Warren "it's alright Roberta." This means he has finally realized who he was and who she was, but a bit too late as she gives him mercy and slices off his head clean off at the neck. The Red Hand's second top guy picks up the head and they all bow to Warren. A bit gruesome, but still touching!
New breed is festering?
Hector dies, but he is given one of the new vaccines just before he takes his last breath and as the show closes, he opens his now yellow snake-like eyes.
We shall see next week how he survives, as a zombie, a blend, or maybe something completely different is about to fester on "Z Nation!"
And here's Lucy!
Wow did Lucy grow! That scary looking infant with razor-sharp teeth is now looking to be about 5-years- old. A clip of Lucy is seen on a preview for next Friday night's "Z Nation" episode and she is surrounded by some odd-looking people. A crazy lady tells Addy and Doc that Lucy can use more friends and then they are ushered to a seat by Lucy. As seen in the picture above, all Lucy's friends are decrepit zombies in various stages of decay.
This makes for a gruesome tea party as seen in the YouTube clip below.
Citizen Z and his new gal pal up North are once again cutting up the airwaves trying to orchestrate Murphy's journey to the CDC in California, which has been waylaid so many times since it started. It looks as though it may be back on track soon. As the episode closes last week, Warren and her new gang of Red Hands are in fighting mode on their way to Seattle to take Murphy's world down and continue on with their mission with Murphy in tow!
Tune in next week to see how adorable Lucy has become...until she smiles! Catch "Z Nation" on Friday nights at 9 p.m. on the SyFy channel!