'Walking Dead' spoilers: did Chandler Riggs' father just reveal Carl Grimes' fate?
Chandler Riggs' dad shares Facebook post that has 'Walking Dead' fans a bit concerned.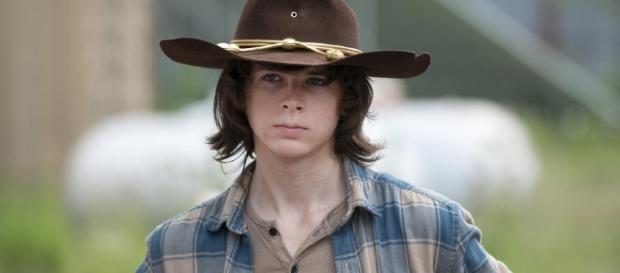 "Walking Dead" fans are a bit concerned today about the fate of Chandler Riggs' character Carl Grimes after reading a Facebook post by his father that may have possibly revealed a spoiler that could affect the entire "Walking Dead" series storyline in a major way!
Is Carl Grimes a goner soon?
Riggs, who plays Carl Grimes on the popular AMC series "The Walking Dead" has been on the show since day one, but his father recently posted that his 7-year-contract has been completed. Chandler, 17, also recently posted earlier this month how excited he was about being accepted to Auburn College.
But, does that mean he is ready to call it quits on the "Walking Dead" and focus on furthering his education in the upcoming months?
Chandler Riggs' father's social media share has fans scared for Carl's life on 'The Walking Dead'
Will Carl Grimes be killed off soon? It sounds pretty serious according to "Walking Dead" fans who read the post, Riggs' dad praised his son along with AMC, the cast and crew about being 100% dedicated, He went on to reveal just how proud he was of his boy for following through on his commitments to the series by getting up in the wee hours of the morning and working through some pretty unpleasant weather conditions, taking on the role of a responsible young adult putting his job first, and his friends and school work a close second, while never complaining once about it.
While Papa Riggs' post was very touching, expressing a major dad brag moment, it has also instilled a lot of worry in fans who are now worried if season 7 could be it for Carl Grimes. It would be a major shocker to lose another close member of the group so soon after Glenn and Abe's brutal deaths.
As previously reported, spoilers for the "Walking Dead" season 7 first half reveal that we can expect at least two more characters to bite it in the upcoming weeks, all fingers point to Heath, and later, Spencer.
But, could it be that Carl will be a major storyline death for the second half following the break?
According to the comic books, Carl is alive for quite some time yet and gets involved in a bizarre relationship with the group's number one enemy at the time, Negan. However, it would not be completely off the wall for the show's writers to stray from the comics into another direction. So, what are your thoughts? Do you believe Chander Riggs' dad's post is being taken out of context, or should fans be worried that young Carl Grimes' end is closer than we thought?
Click to read more
You will watch a video to read the news
or