'The Walking Dead' - Norman Reedus to stay for season 8, but will Carl?
Norman Reedus, who plays Daryl Dixon on 'The Walking Dead,' has just signed a new contract for next season, but rumors are flying.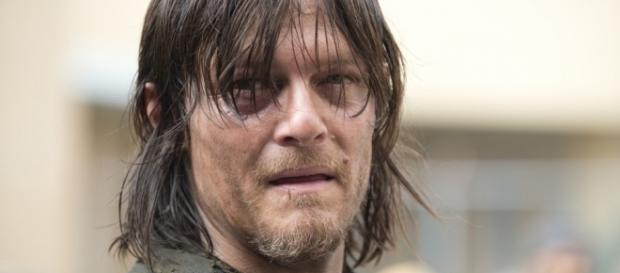 Warning, spoilers ahead if you aren't keeping up to date with season 7 of "The Walking Dead."
Ever since the new season began, fans have been worried about which fan favorite would be next to suffer a terrible fate. With Negan currently holding and torturing Daryl, some wondered if he would make it. As noted by Hall of Fame Magazine, the current season does seem to be keeping close to the narrative of the original comics, and while Daryl Dixon was reportedly an original creation just for the TV series, he has quickly become a favorite and Norman Reedus certainly does a good job of playing the part.
After having been kept in a dark room and fed dog food, things don't look too rosy for our hero, but it looks like he is here to stay. However, there is now doubt as to young Carl's survival in the coming episodes.
Renewal of 'The Walking Dead' contracts
According to Movie Pilot, Daryl will, indeed, return in the next season as he has already renegotiated his contract, as has Andrew Lincoln who plays Rick (can we hear another sigh of relief there?) Reportedly Reedus will be earning $550,000, while Lincoln tops that at $650,000 for both season 7 and 8.
While producers on "The Walking Dead" normally keeps character deaths under wraps to heighten the tension, the fact that Reedus has signed a new contract does seem to point to his survival against the odds.
#TWDFamily Happy #TWD Tuesday These Guys❤ @JDMorgan @wwwbigbaldhead #AndrewLincoln @steveyeun @TWDwayne @ldavisusa @HeyMo517 @jvickydiane ❤ pic.twitter.com/8QeEtkKAsk

— ♦Adrienne♦ (@xx_AdrienneG_xx) November 22, 2016
Will Carl be leaving TWD?
On the other hand Chandler Riggs, who plays Rick's son Carl, might be the next fan favorite victim on the show.
Spoilers again for anyone who is not keeping up to date, but in the latest episode, Carl was headed off in a truck with Jesus to Negan's location, which would tend to be a little life-threatening.
ICYMI: Is Carl actor @chandlerriggs leaving @TheWalkingDead?! https://t.co/eZhrqCl9bb pic.twitter.com/C2eu9McinQ

— Comicbook.com (@ComicBook) November 21, 2016
The spoiler came out after his father William Riggs posted on Facebook to say his son Chandler had just completed his seven-year contract. His dad thanked the cast, crew and TWD fans for supporting his son and posted that Chandler will be studying at Auburn University in Alabama.
The post appears to have been removed from the social media platform. Whether there is time to study and play Carl in the next season is doubtful. However, there has been no official announcement to say he is leaving the show.
As some sites have pointed out, maybe the contracts are a set seven-year length, and maybe, just maybe, he has signed a new one. We will just have to wait and see. In the meantime, producers have given us a gift in the form of a trailer for the weeks ahead, which you can view below.
Click to read more
You will watch a video to read the news
or