Jax Taylor is okay with his girlfriend Brittany Cartwright cheating on him?
Jax Taylor explains why a Brittany Cartwright lesbian hookup would be okay with him.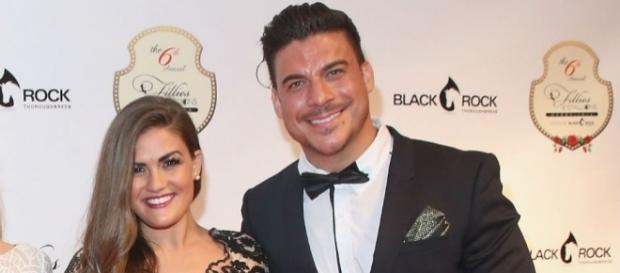 Jax Taylor and Brittany Cartwright's relationship has taken center stage on "Vanderpump Rules," due to a situation which took place between Cartwright and her co-star, Kristen Doute, during the first episode of season five. However, their main issue thus far isn't really a concern for Taylor at all.
According to recent episodes of the Bravo reality series, Taylor and Cartwright are at odds after Taylor walked in on Cartwright and Doute who were allegedly involved in some sort of a compromising situation -- which Cartwright completely denied and Doute claimed to have no recollection of.
From there, Taylor continued to relay the rumor to others while Cartwright continued to tell Taylor that what he said happened between them never actually happened.
Although fans may never know exactly what happened between Jax Taylor's girlfriend and Doute, whom he slept with himself years ago, the issue is no big deal for Taylor. In fact, during a recent interview with TMZ, he claimed he wouldn't consider Cartwright a cheater if she slept with another woman.
Jax Taylor doesn't consider a lesbian hookup to be cheating
Speaking to a photographer in New York City with Cartwright at his side, Jax Taylor said, "I don't mind.
If she chose to like hookup with girls that's fine. That doesn't bother me. To me, that's not cheating." Taylor also seemed to have a change of heart when it came to his girlfriend's potential past hookups and told the cameraman, "She doesn't want to, but I don't care."
Taylor also seemed unconcerned with the issue last week when he appeared on Andy Cohen's late night talk show, "Watch What Happens Live." During the show, Taylor explained that his main issue with the night he allegedly walked in on Cartwright and Doute was that he wasn't immediately able to gain access to his apartment after a long night out.
For more of Jax Taylor and Brittany Cartwright, as well as their co-stars, tune in to new episodes of the 5th season of "Vanderpump Rules" on Bravo TV every Monday night at 9 p.m.
Click to read more
You will watch a video to read the news
or